In partnership with the Making Spirits Bright Foundation, JIMMY SWIMS and the Arrowhead Lake Association (ALA) will hold the Second Annual charity swim across Lake Arrowhead on Saturday, September 4, 2021. The event will take place at Burnt Mill Beach Club (27910 Lakes Edge Road, Lake Arrowhead, CA 92352) from 6AM-7AM to raise awareness and funds for UCLA cancer research. The route will be across Blue Jay Bay and back, approximately 3/4 of a mile (1,320 yards).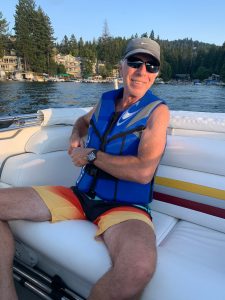 Jimmy Sanders has battled a rare form of metastasized Stage 4 papillary thyroid cancer since 2012. Last year (2020) was full of challenges for everyone. As a result, funds were reallocated to deal with much-needed Covid-19 vaccine research while funds for cancer research and other diseases fell short. Being a competitive swimmer for a significant part of his life and member of the Lake Arrowhead community for decades, the Arrowhead Lake Association graciously granted his request to swim across the lake in 2020 and JIMMY SWIMS was born. Since then, JIMMY SWIMS has been approved as an annual charity event to benefit others and give back to the medical community.
Since last September, Jimmy has undergone an unprecedented 4th round of Radioactive Iodine Therapy (RAI) to help manage his incurable cancer. This year, the Arrowhead Lake Association has opened this event to others who may want to swim, canoe, paddleboard, or kayak across the lake with him to help raise awareness and funds for cancer research.*
Participants can register HERE.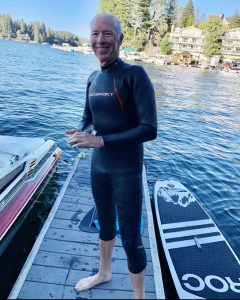 As many cancer patients know, treatment options require faith in their doctors, the research behind the options presented and future science. Jimmy is thankful for the support of his family, friends and community and the care he has received from Drs. Christian Schiepers, Robert Ross, Martin Auerbach, Monica Plesa, Ian Yip, Michael Yeh, Marcella Press, James Wilson and David Yao. Your tax-deductible gift will be directed through the UCLA Jonsson Cancer Center Foundation to Dr. Christian Schiepers for his research in thyroid cancer treatment. Your support for this cause is greatly appreciated.
Dontate TODAY!
*Swimming for this event is open to the public and does not require ALA Membership/Lake Arrowhead residency. Only ALA registered paddleboards, kayaks, paddleboats and other human-powered vessels are permitted.