FINA
LLY: AN EPIC

MOUNTAIN BIKE PARK MADE FOR FAMILIES!

Planning a successful family vacation is a feat in itself, but planning one that features mountain biking can be especially difficult. Most mountain bike parks are for serious riders. Sure, you and your outdoorsy teen would have fun, but your four-year-old would be left behind. And grandma would rather take a gentle hike and tour gift shops than shred a bike trail. So, what's a vacationing family to do?

This was the dilemma that mountain bikers Bill and Michelle Johnson faced for years. "I've found myself at bike parks all over the world that my family didn't especially care for or even enjoy," said Bill, "The mountain biking community didn't really have any great parks for the whole family."

So when Santa's Village (the historic, shuttered Southern California theme park) went up for sale in 2014, Bill and Michelle bought the park and turned it into a world-class theme park/bike park: SkyPark at Santa's Village, complete with next-door campground and RV accommodations. "We wanted to make the perfect park for families to spend a day or two," says Michelle Johnson, park Co-Owner, "Bill and I have biked these mountains since we were kids, and now we get to share it with the world."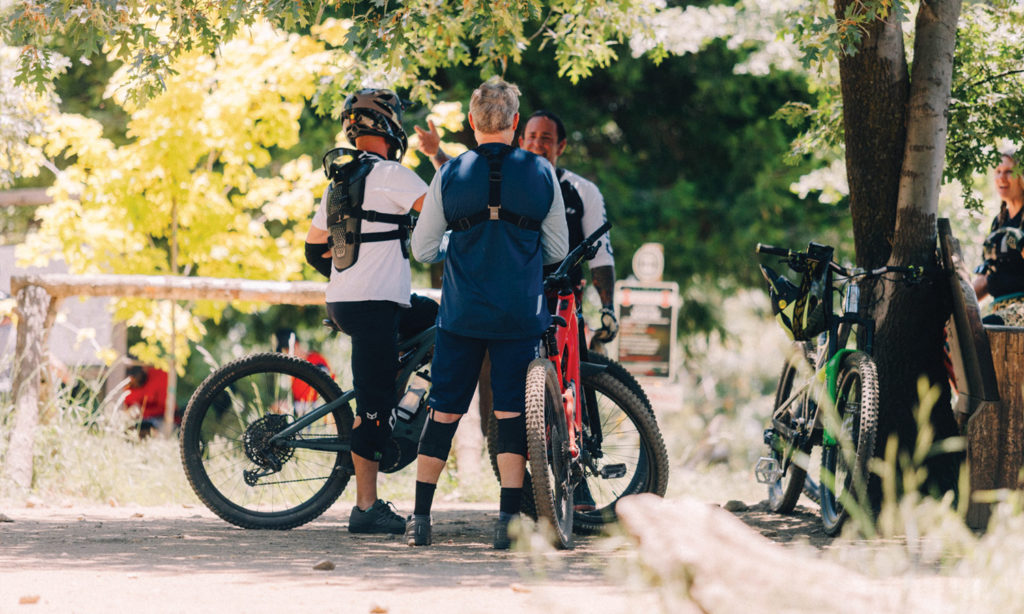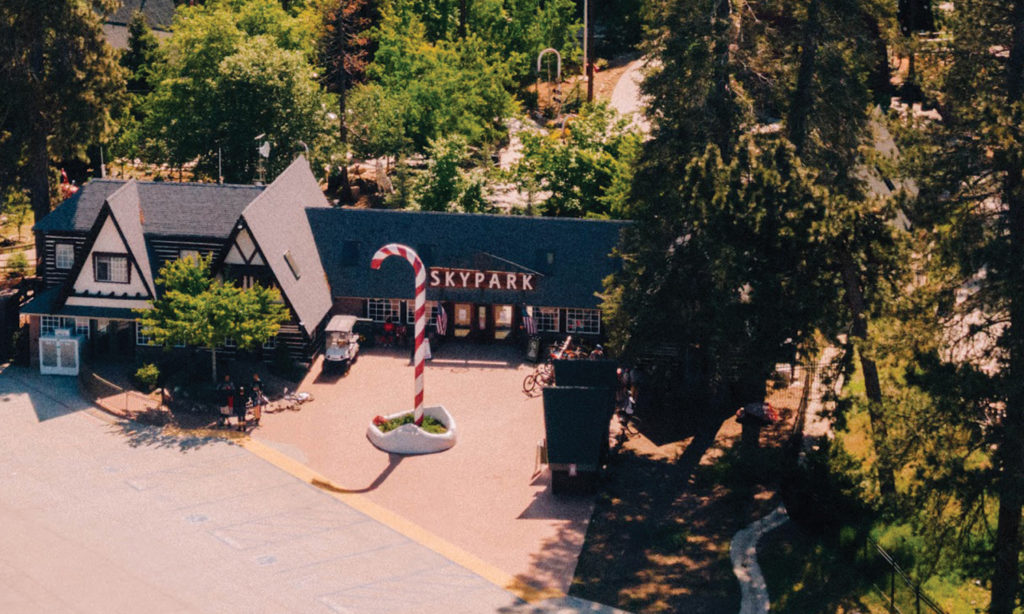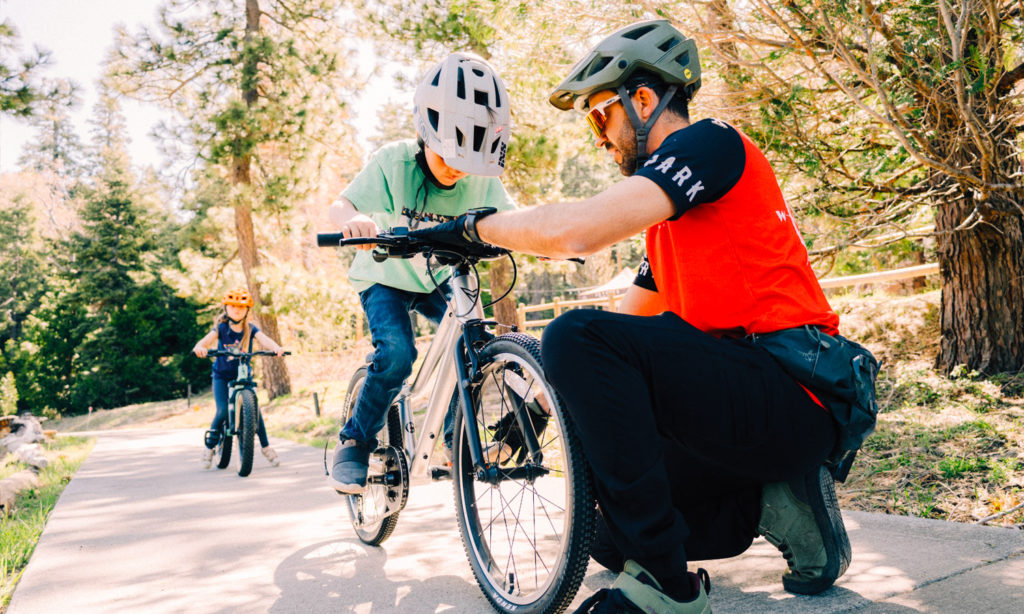 WHAT CAN FAMILIE
S EXPECT AT SKYPARK

?

"We have a fully-alpine themed Santa's Village as well as an epic mountain bike park with 7.5 miles of track," says Bill, "And there's something for every age and skill-level. We have a pump track for the little ones, entry and medium level trails, and even expert-level tracks that keep pro riders coming back. The park is designed much like a ski resort, although we do not have a lift service. Everyone can ride together to the top, but a scaled network of trails for all levels can bring you down, back to the village, at a central location to regroup. We're constantly improving and adjusting trails, with expansion continuing to change the experience every season."
BESIDES EPIC TRAILS, WHAT ELSE DO YOU OFFER BIKERS?
"We offer lessons for all ages and skill levels as well as a full on-site bike shop," says Michelle, "Our shop is filled with top-of-the-line mountain bikes, bike rentals, clothing, accessories, and everything a biker could want, whether you're new or a regular. Our expert staff will help you find the bike and gear to get the best experience on the mountain. We even have a rent-to-own program. When you purchase a bike from us you also get an annual pass for free."
TELL US ABOUT THE
BIKE LESSONS
"We offer bike lessons for ages 3 and up, at a variety of skill levels," says Michelle, "Our lessons are taught by certified instructors. We offer group and private lessons for everyone from beginners to regulars looking to improve their skills." Please click here to learn more about bike lessons.
TELL US ABOUT THE PARK'S LOCATION
"Lake Arrowhead is a beautiful location in an alpine setting," says Bill, "And Big Bear is about an hour's drive down the road. The area gets a lot of seasonal skiers and nature-lovers. You can stay at our campground and RV park, or the Lake Arrowhead Lodge. There are fun places to eat and get drinks (including several in the park). The area is a great place for a weekend getaway, and, weather permitting, our park is open year-round."
WHAT DO Y
OU THINK MAKE

S A BIKE PARK GOOD?

"Our definition of a good bike park is one that can cater to all levels of riding," says Bill, "At SkyPark you can have just as much fun as a total beginner as you would have as an advanced rider. The food, activities and riding will keep all ages engaged for days. There is even a full RV Park with a view of the San Bernardino Valley. You can come for a day or stay for multiple days enjoying the Alpine setting."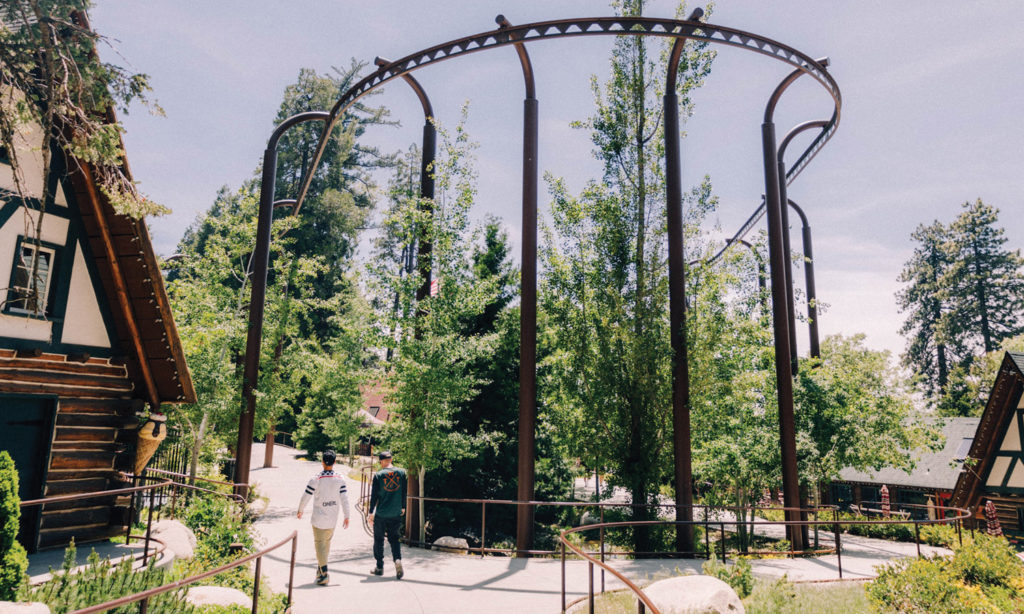 TELL US MORE ABOUT YOUR HIST

ORY WITH THE PARK

"Bill and I used to come here when we were younger, back when Santa's Village was closed, and make bike paths through the trees," says Michelle, "We were mountain locals and this was one of the best places in the area to spend an afternoon in the trees. In 2014, long after we were married and had gained significant experience in the real estate world, we saw the old Santa's Village property come up on the market and it was like the universe was giving us a chance to share this magical place with the world. Now everyone gets to experience the park we've spent years perfecting."
WHAT NEW LEGACY
DO YOU WANT FOR THE

PARK?

"It used to be, when people came to the San Bernardino Mountains for sports, they were mostly just into skiing. But today, they're also into mountain biking" says Bill, "We're proud to be a part of that mindset shift. These mountains need to be experienced and mountain biking is such a great way to do it year-round. It's good for the local community as well, to have something year-round again. Plus, we've brought the famous Santa's Village theme park back to life for new generations, and that's really special. I think the legacy this park leaves for future families is a very positive one, and Michelle and I are proud to be a part of it."
ABOUT SKYPARK AT SANTA'S VILLAGE
SkyPark at Santa's Village is an outdoor adventure park with year-round mountain biking, hiking, fly-fishing, and open-air activities in the Skyforest section of Lake Arrowhead, California. The park resides on 230 expansive acres of natural forest with meadowlands, ponds, and an apple orchard. The village is the core of SkyPark, which includes historic log cabin restaurants and shops, seasonal entertainment, and open-air activities. SkyPark's 7.5 miles of year-round mountain bike trails, hiking trails, fly-fishing, archery, seasonal ice skating or roller skating, rock climbing, and more are available to the public for the price of admission.
SkyPark's conservation program includes the Henck Meadowlands Conservation Trail, Conservation Hikes, and Outdoor Educational Programs for school-age children. Each season, we offer a different themed overlay. During November and December, we transform the entire Park into Santa's Village: the ultimate Christmas experience! And for the adventurous Guests, come camp with us at SkyPark Camp + RV Resort or "glamp" at the NEW SkyStream Resort to make your trip complete!
–
Paid admission is required for entry to SkyPark at Santa's Village. Annual/Lifestyle Passholders and Monthly Members get in for free. All guests entering the park must complete a waiver, regardless of participation in activities.