AND SO WE BID A FOND FAREWELL TO SUMMER'S WARMTH AND LOOK FORWARD TO THE AUTUMN AS THE LEAVES TURN GOLD
Pumpkins in the Pines returns to SkyPark at Santa's Village October 7th-29th. Saturdays and Sundays, join us for a parkwide pumpkin patch, trick-or-treating, seasonal food & beverages, costume contests, pumpkin painting, the Legend of Sleepy Hollow Puppet Show, and more! Celebrate the fall season with family-friendly outdoor activities and abundant photo ops. And don't forget to stop by Kringle's Coffee & Gifts for the best pumpkin spice latte on the mountain!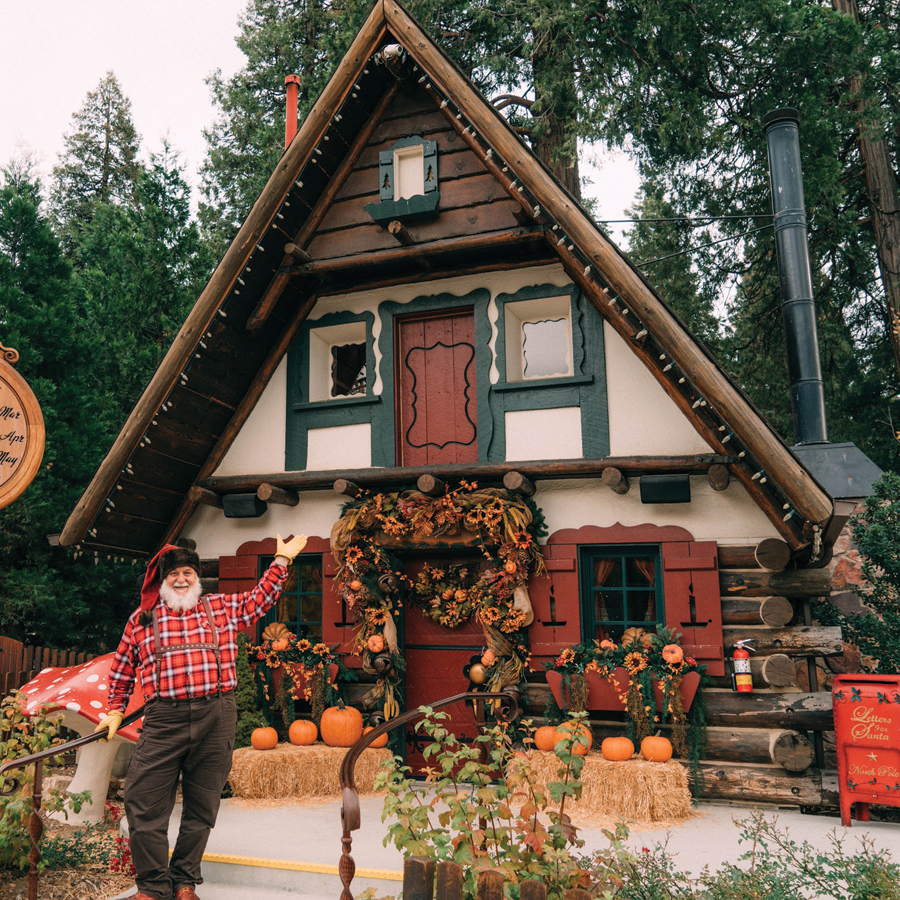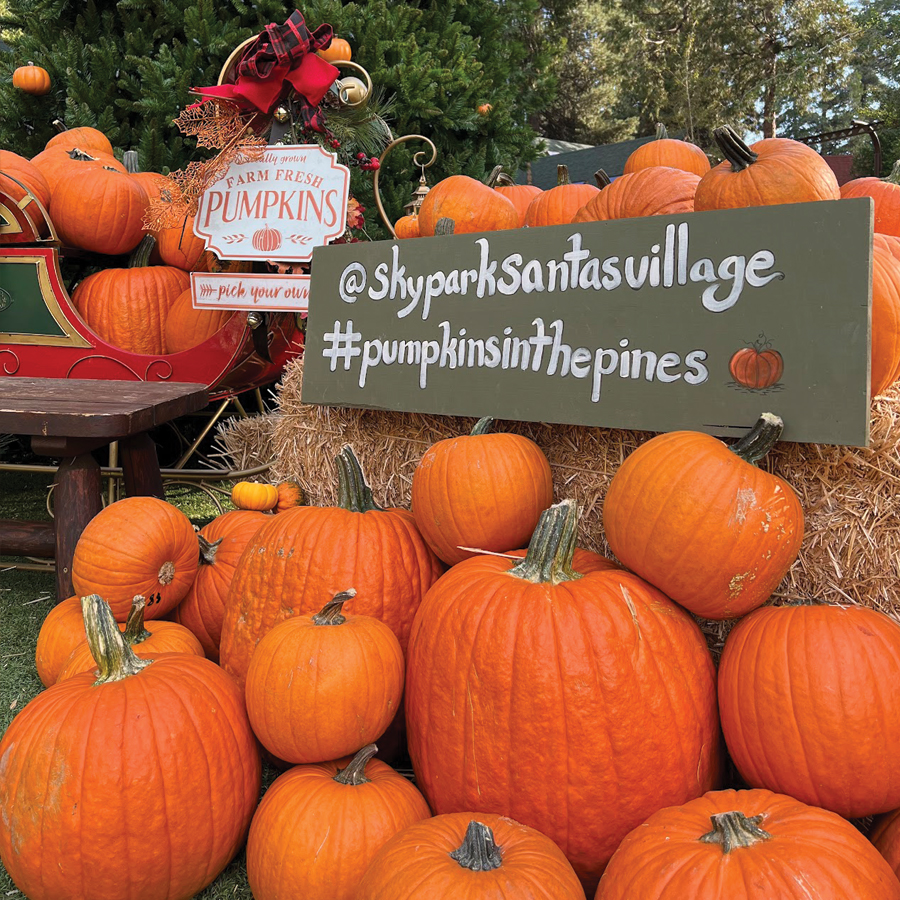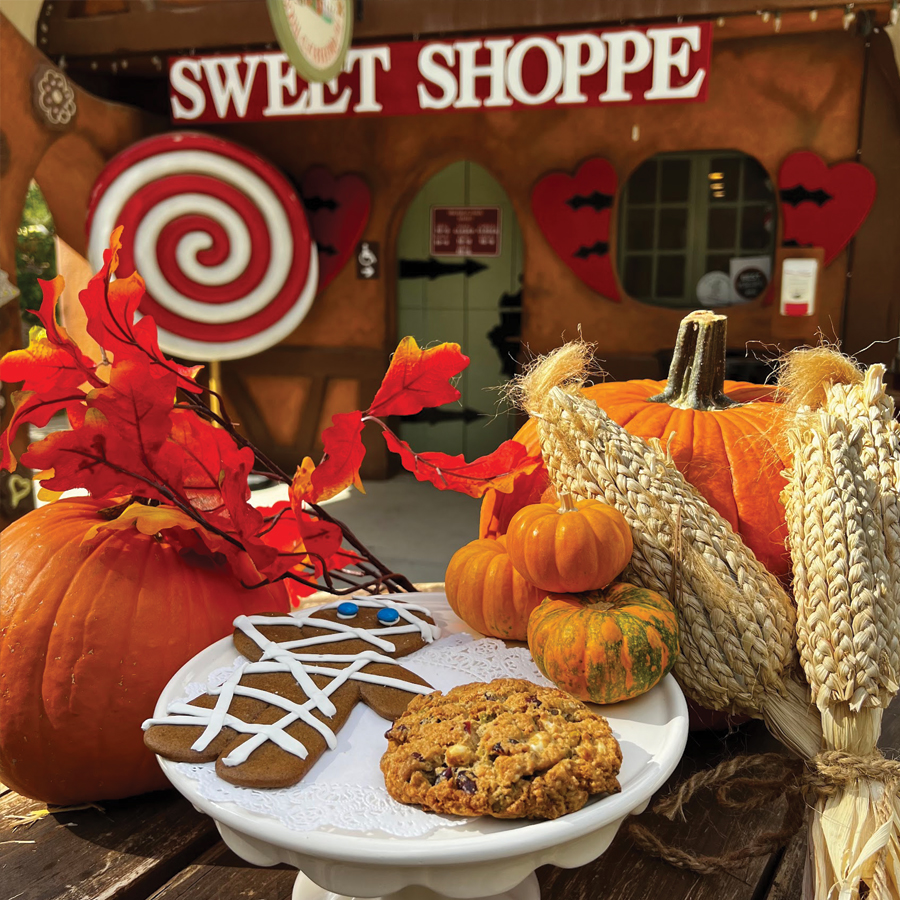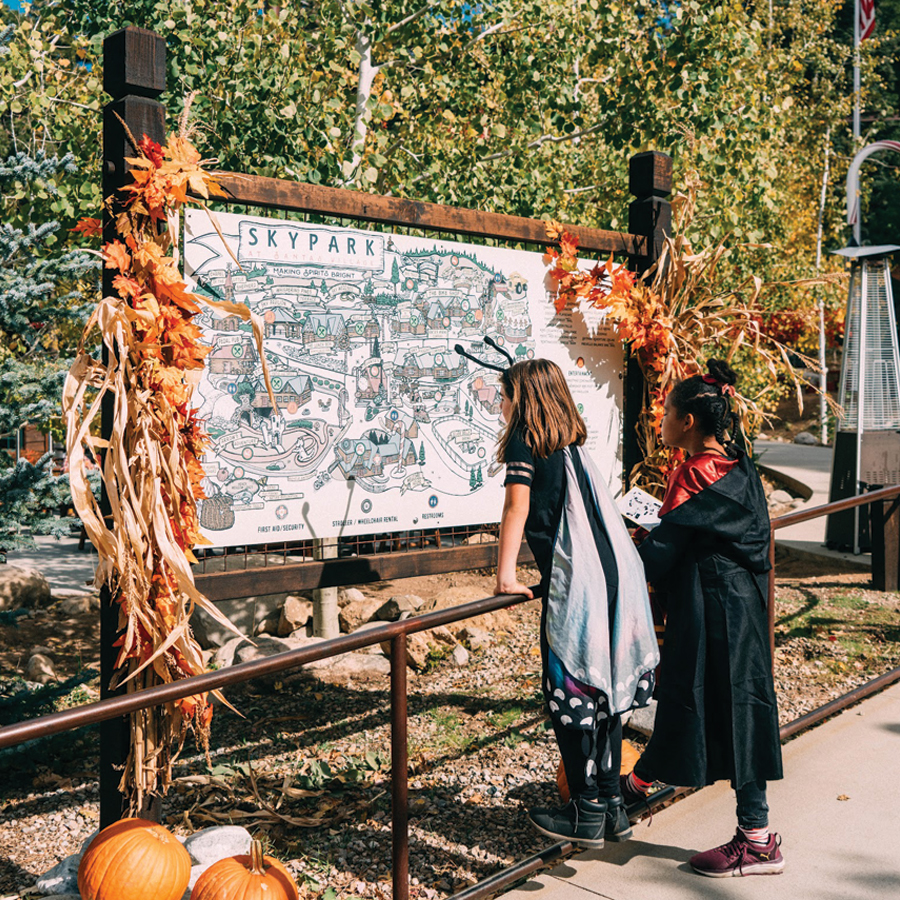 –
Access to Pumpkins in the Pines is included with a SkyPark Day Pass, 3-Day Pass, Annual Pass, or Monthly Membership.
For more information on what is included with admission, please click here.
–
PUMPKINS IN THE PINES SCHEDULE – CHECK BACK FOR UPDATES
DAYS
EVENT
LOCATION
HOURS
Saturdays & Sundays
Pumpkin Patch
Parkwide
All Day
Saturdays & Sundays
Pumpkin Painting
Santa's Workshop
10:00am – 5:00pm
Saturdays & Sundays
Trick-or-Treating
Select Buildings Parkwide
3:00pm – Close
Saturdays & Sundays
Costume Contest & Great Pumpkin Weight Guessing Game
 Yard by Santa's House

3:00pm

Saturdays & Sundays
Spooky Sensory Play
Near the Sky Pavilion
11:00am – 3:00pm
Saturdays & Sundays
Monster Mash Light Show
Village Tree & Parkwide

Sat. 5:00pm & 8:00pm

Sun. 5:00pm

Oct. 20

Tunes in the Trees Concert: Dead Man's Party (Oingo Boingo Tribute) – dress in "dead" theme! (ages 18+)

Terrace
7:00pm – 9:00pm
Oct. 21 & Oct. 28
Fantom Forest Haunted Hike (ages 13+)
Fantasy Forest Hiking Trail
7:00pm – 9:00pm
Oct. 21 & Oct. 28
Wacko's Creepshow (ages 13+)
Sky Pavilion
6:00pm
Oct. 21, Oct. 27 & Oct. 28
Magical Meadowlands Train Ride (all ages)
Meadowlands
7:00pm – 9:00pm
Oct. 27
Annual Halloween Party & Costume Contest featuring live music with Steve's Rock-n-Roll Time Machine
Silver Bells Arena

7:00pm – 9:00pm

Oct. 28
Monster Mash Halloween Skate Night & Costume Contest
Silver Bells Arena
7:00pm – 9:00pm
Oct. 28 & Oct. 29
Arrow's Spooky Balance Bike Races, Sponsored by Prevelo
Silver Bells Arena

10am – 10:45am: Register and Practice

10:45am: ages 2-3

11am: ages 3-4

11:15am: ages 5-6

11:30am: ages 7-9

Oct. 28 & Oct. 29
MTB Halloween Group Ride & Costume Contest
Behind the Pedal Pub
1:00pm
Oct. 28 & Oct. 29
Campsite Decorating Contest & Costume Contest
SkyPark Camp + RV Resort
All Day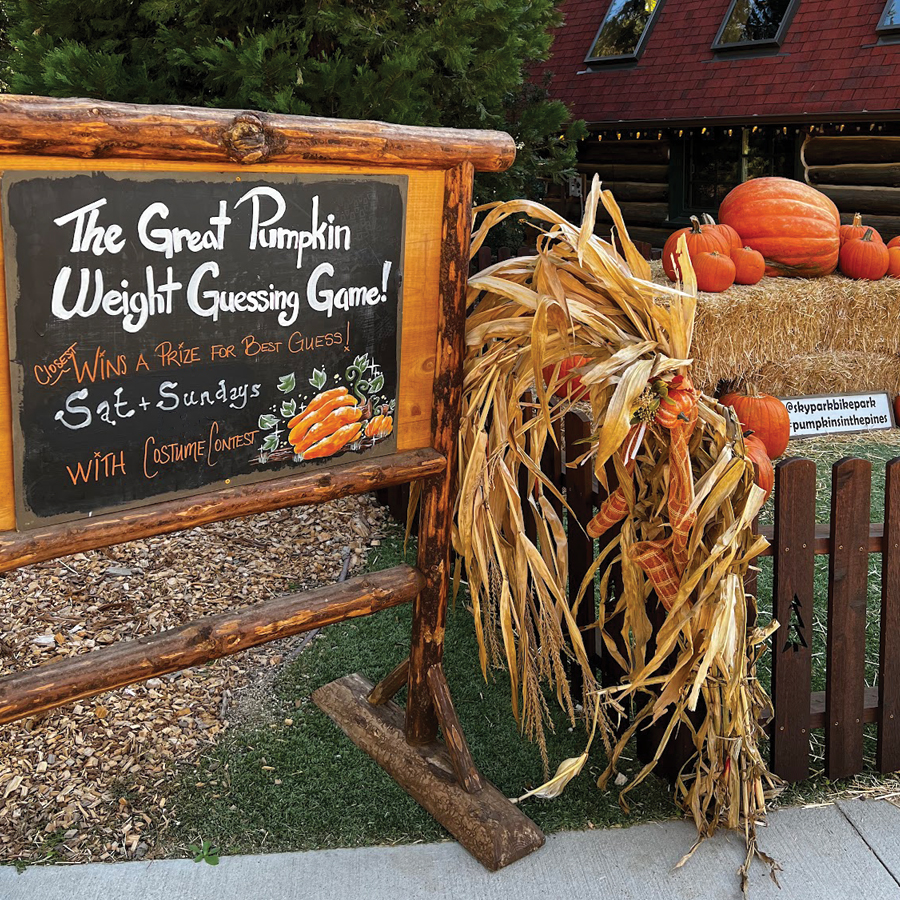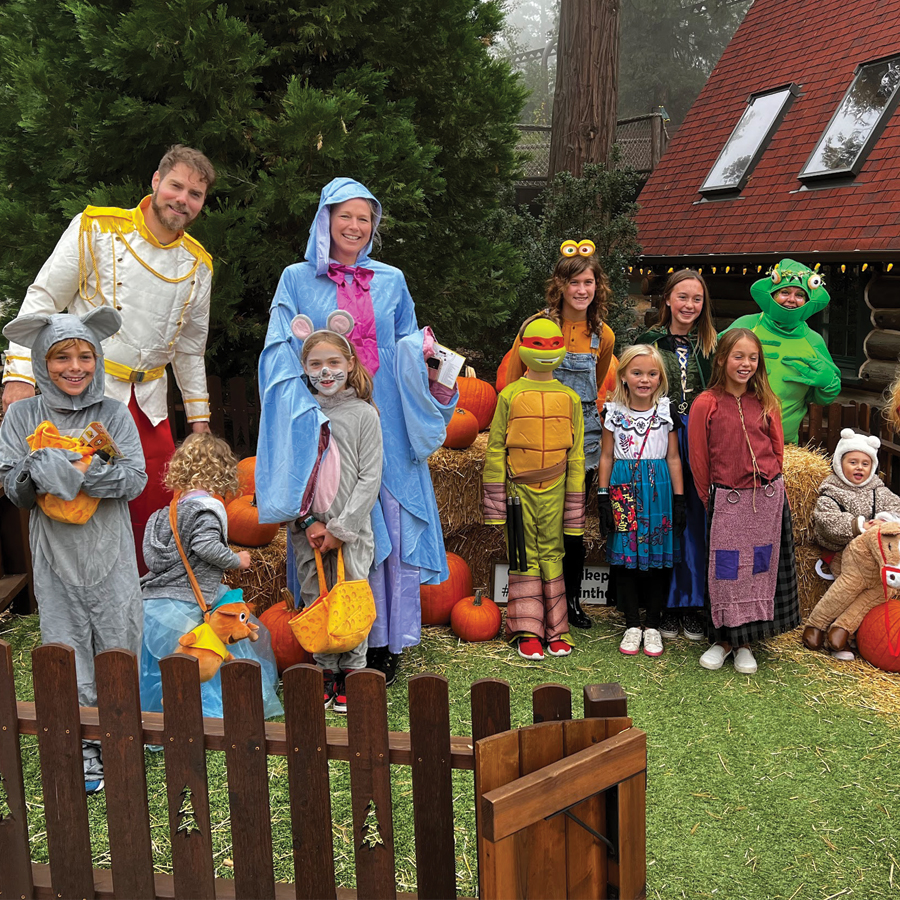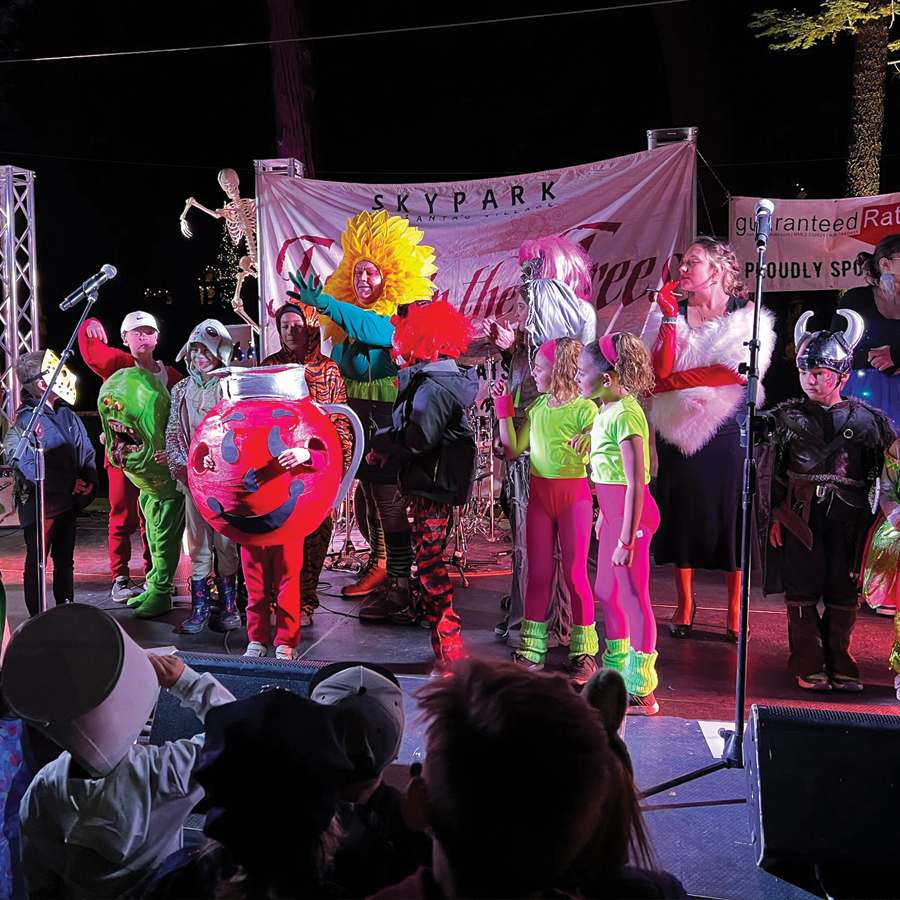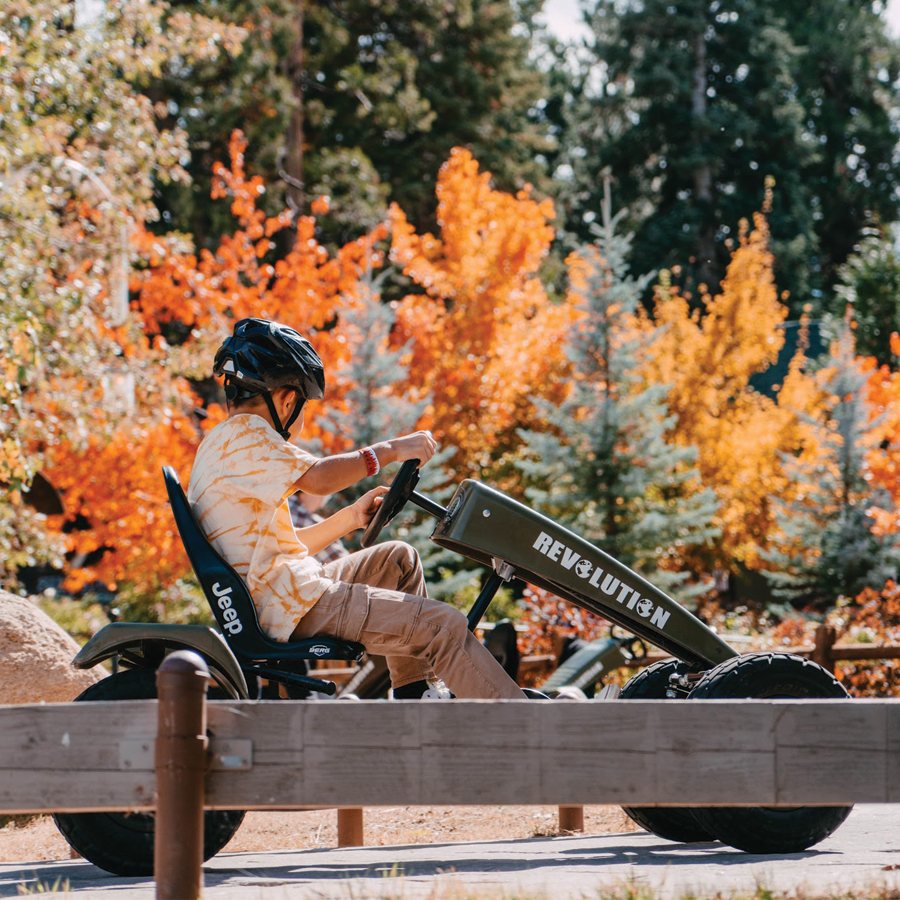 Paid admission is required for entry to SkyPark at Santa's Village. Annual/Lifestyle Passholders and Monthly Members get in for free. All guests entering the park must complete a waiver, regardless of participation in activities.