Since our original opening in 1955, the holidays have always marked a special time for SkyPark at Santa's Village. So it's no surprise that this is our favorite time of year where we can continue the holiday tradition of making spirits bright among generations of families and friends. From November 17th, 2021 – January 9th, 2022 we welcome you to make new memories and experience the Santa's Village Nostalgic Christmas in the Woods celebration!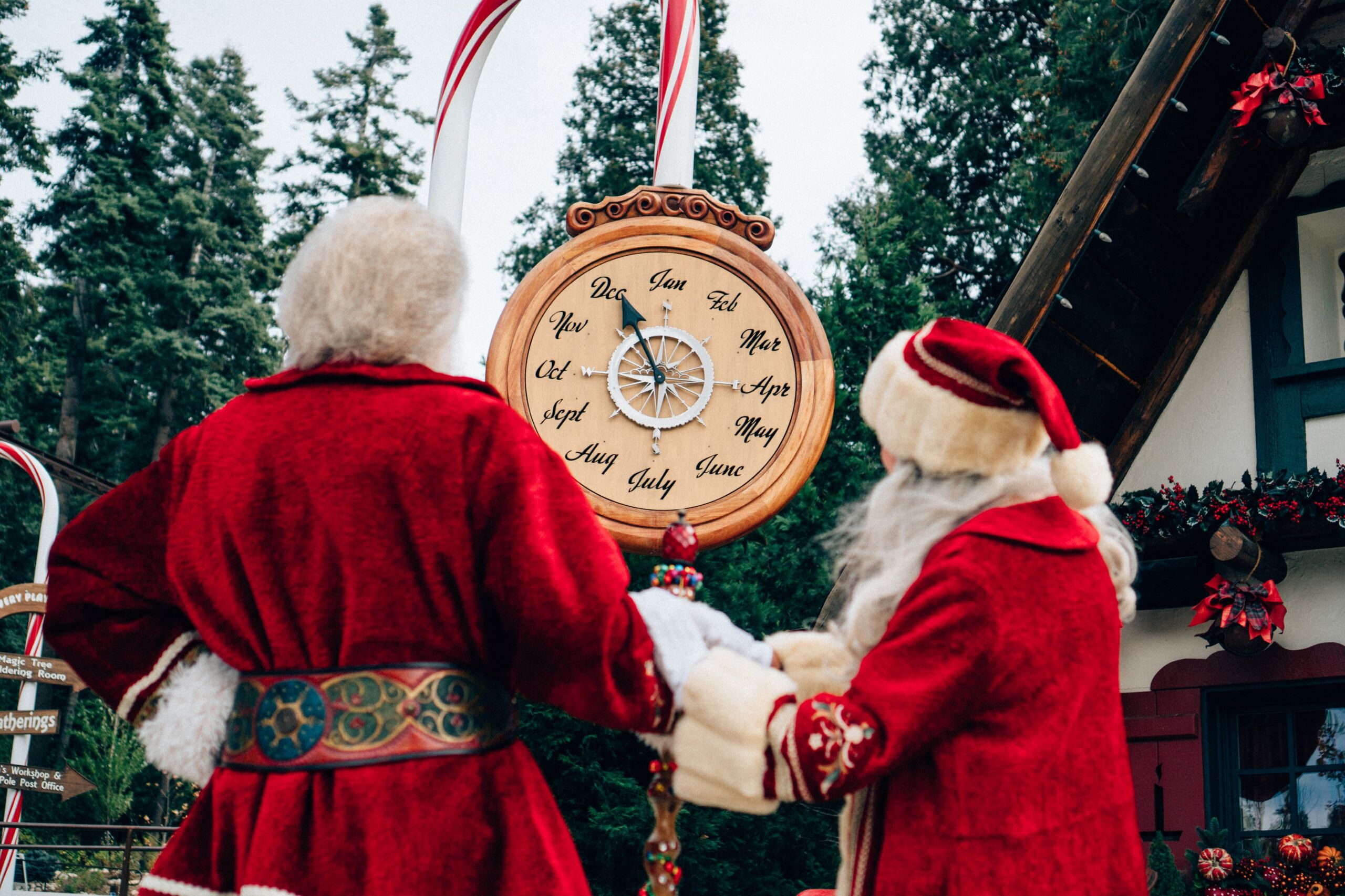 DAY PASS TICKETS
Day Passes to Santa's Village (starting November 17th, 2021 – January 9th, 2022) are $69 (ages 13+) and $59 (children ages 4-12/seniors ages 60-74). Children ages 3 and under as well as seniors ages 75+ receive complimentary admission. Christmas at Santa's Village is understandably our busiest season, especially on the weekends. So don't get your tinsel in a tangle by waiting until the last minute! Save time in line by purchasing your Day Pass today because you won't want to miss this (or be naughty and save Santa the trip)!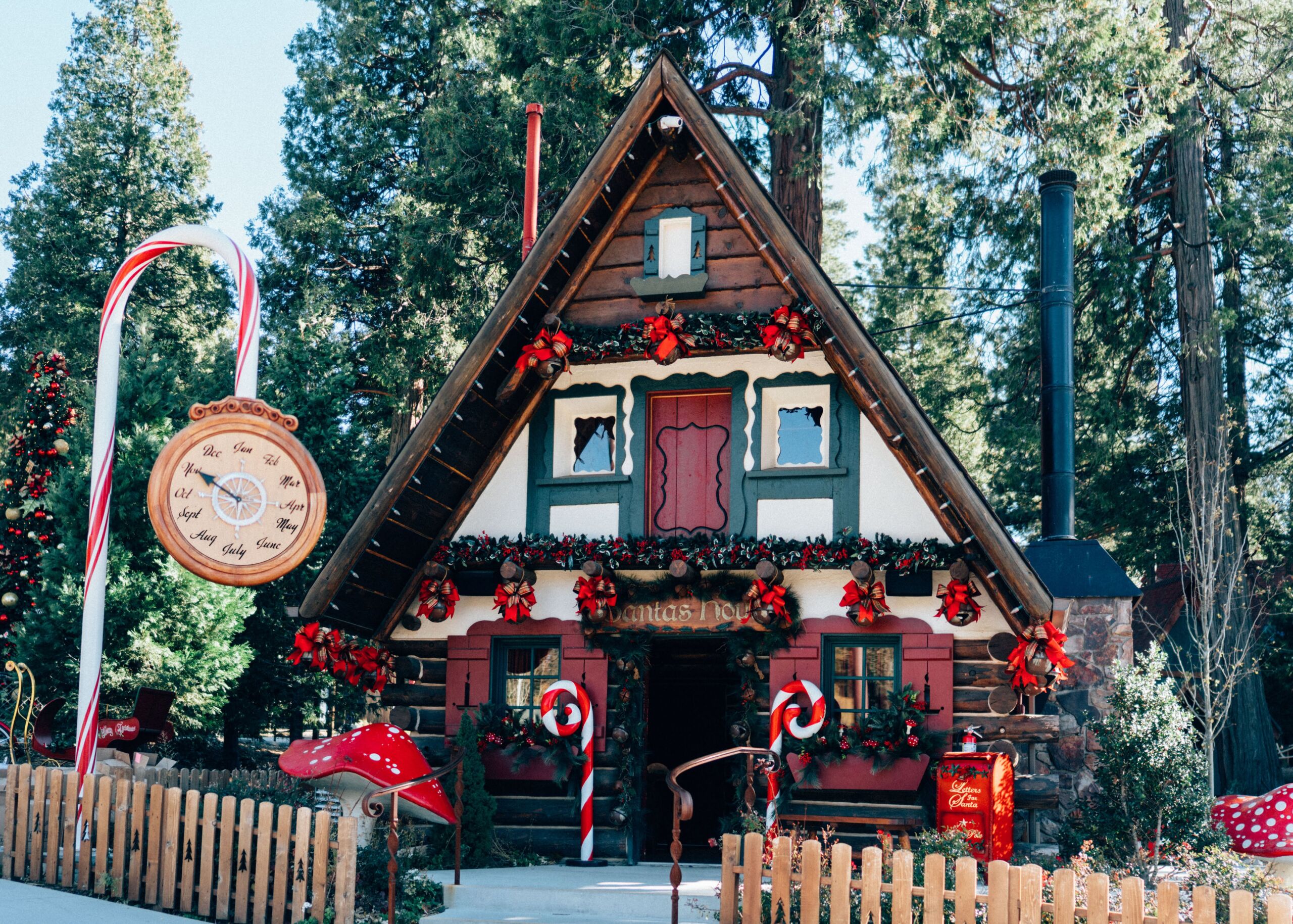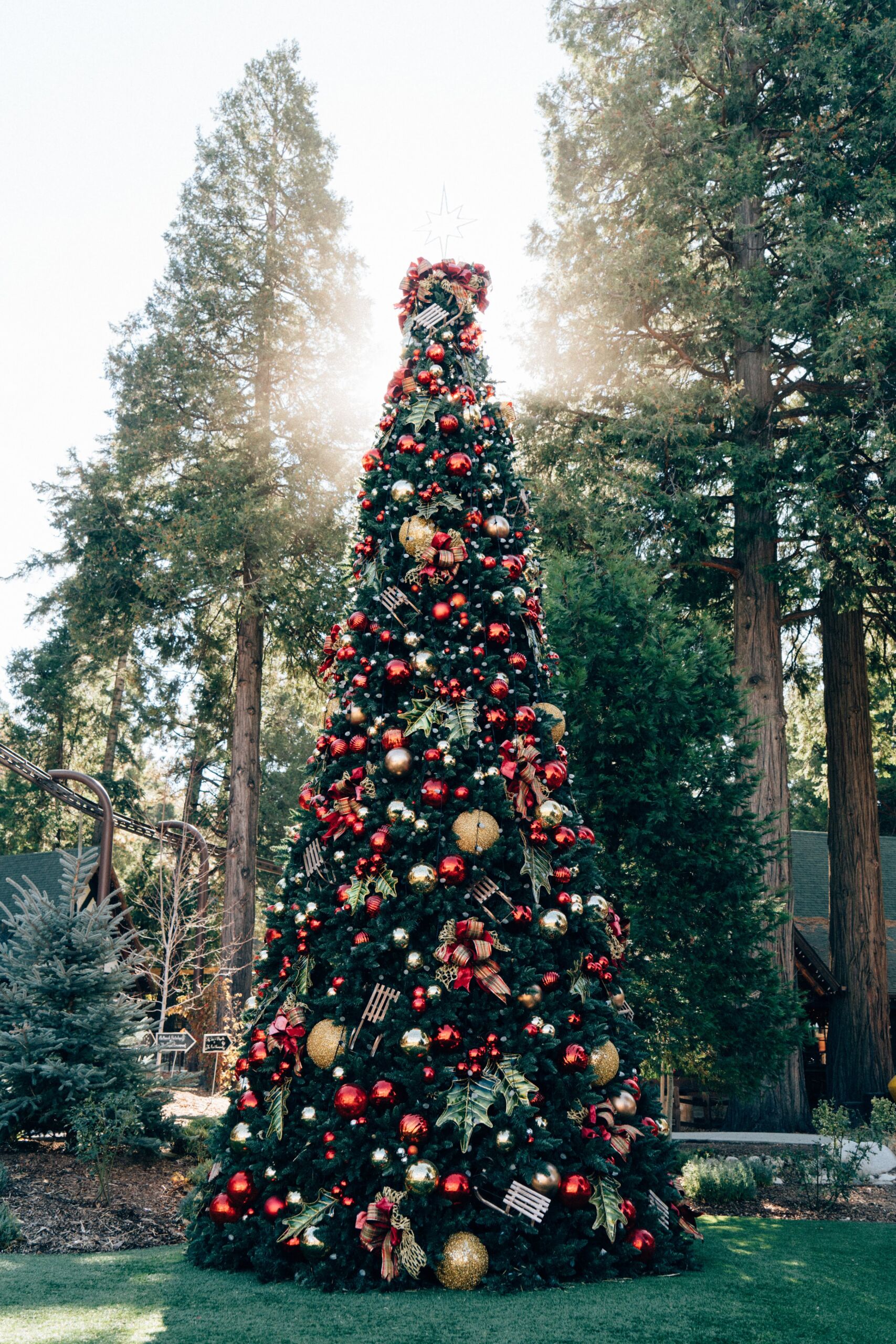 RESERVATIONS FOR VISITS WITH SANTA
Nobody enjoys waiting in line, so we're offering same-day reservations* for your family's visit with Santa! Upon arrival, head to Santa's House to receive a reservation card from his Elves with a dedicated time for your own private visit (limited capacity of 6 guests per visit). Meanwhile, you'll be able to enjoy the rest of the activities at Santa's Village. Santa's Elves kindly remind Guests to be mindful of their reservation time. To ensure everyone on Santa's List gets an opportunity to see him, please plan accordingly and don't be late! Due to limited space and high demand, Guests are not guaranteed a reservation with the Big Guy. So remember to come and reserve early (a standby line will also be available).
If you happen to miss Santa in his house, he will appear nightly at the Village Tree Lighting Parade at 5:00 PM. You will also have another opportunity to see Santa in Christmas Coachworks on Saturdays and Sundays from 12:00 PM – 4:00 PM.
Reservations to meet and take photos with Santa are complimentary and available Sundays – Thursdays from 10:00 AM – 6:00 PM and Fridays – Saturdays from 10:00 AM – 7:00 PM. Photos taken by his Elves will be available for purchase. Guests are also welcome to take photos using their own personal devices at no charge.
*Reservations are on a first come, first served basis. Please plan your day accordingly. A standby line will also be available should other guests opt out of their reservation time.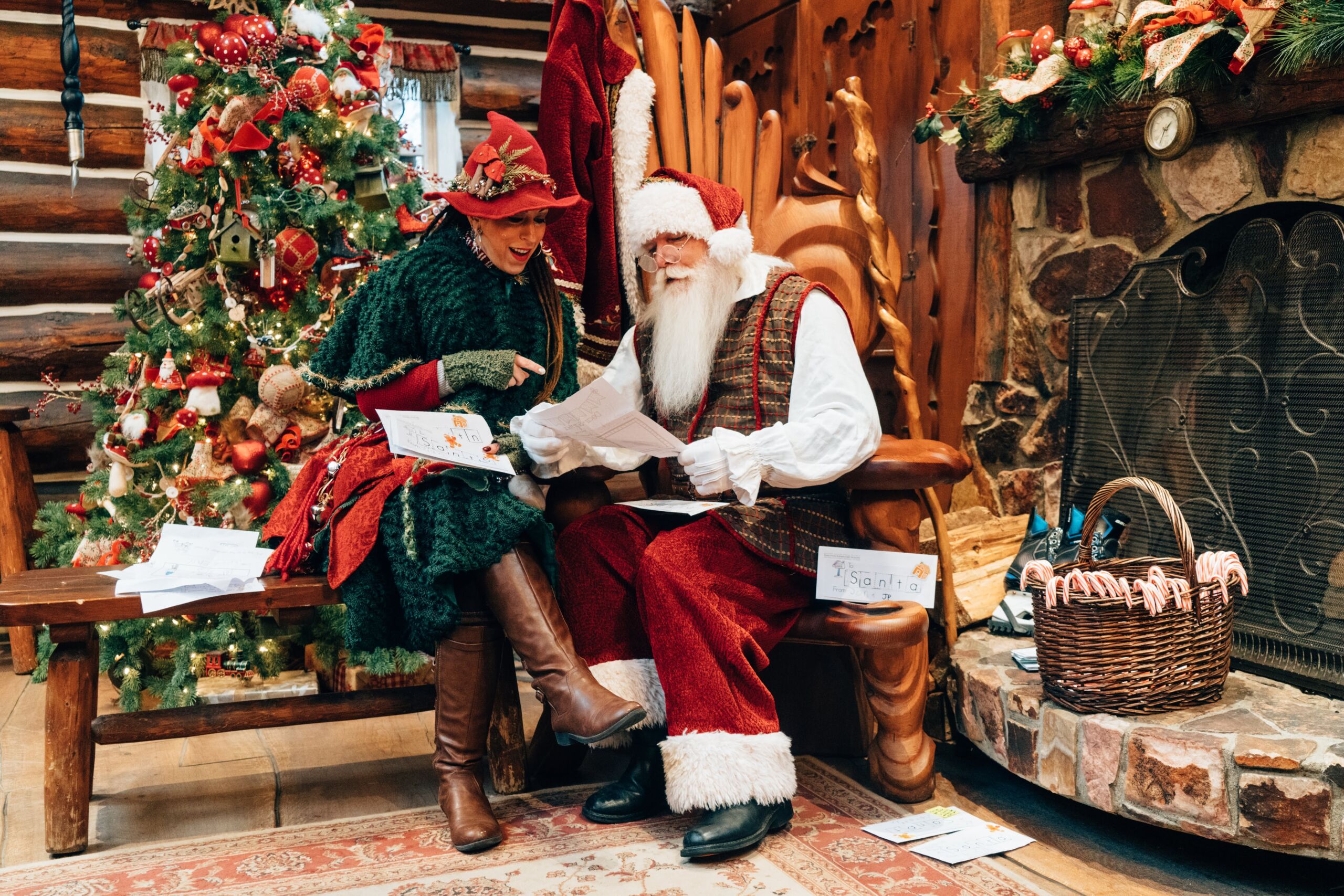 BREAKFAST WITH SANTA
Breakfast is the most important meal of the day. So what better way to start off your visit to Santa's Village than to enjoy a meal with the Big Guy himself? Enjoy delicious waffles, breakfast breads, fresh fruit, scrambled eggs, Elves special casseroles and breakfast meats paired with a variety of juices, coffee and Mrs. Claus' Hot Cocoa. You'll even take photos with Santa before the Park opens to other Guests. Breakfast with Santa is available for $45* per person on Fridays, Saturdays and Sundays from November 26th– December 26th at 8:00 AM and at 10:00AM (with the exception of Christmas Day). Breakfast will fill up quickly, so make your secure your seat now for November 26th-28th, December 3rd-5th, 10th-12th, 17th-19th, 24th or 26th.
*All Guests who want to be at the breakfast do need a reservation and all children need to be accompanied by an adult. All Guests must also purchase a Day Pass (in addition to breakfast) or be a SkyPark Passholder to join. Please make sure to be prompt or come early to ensure you make Santa's Good List!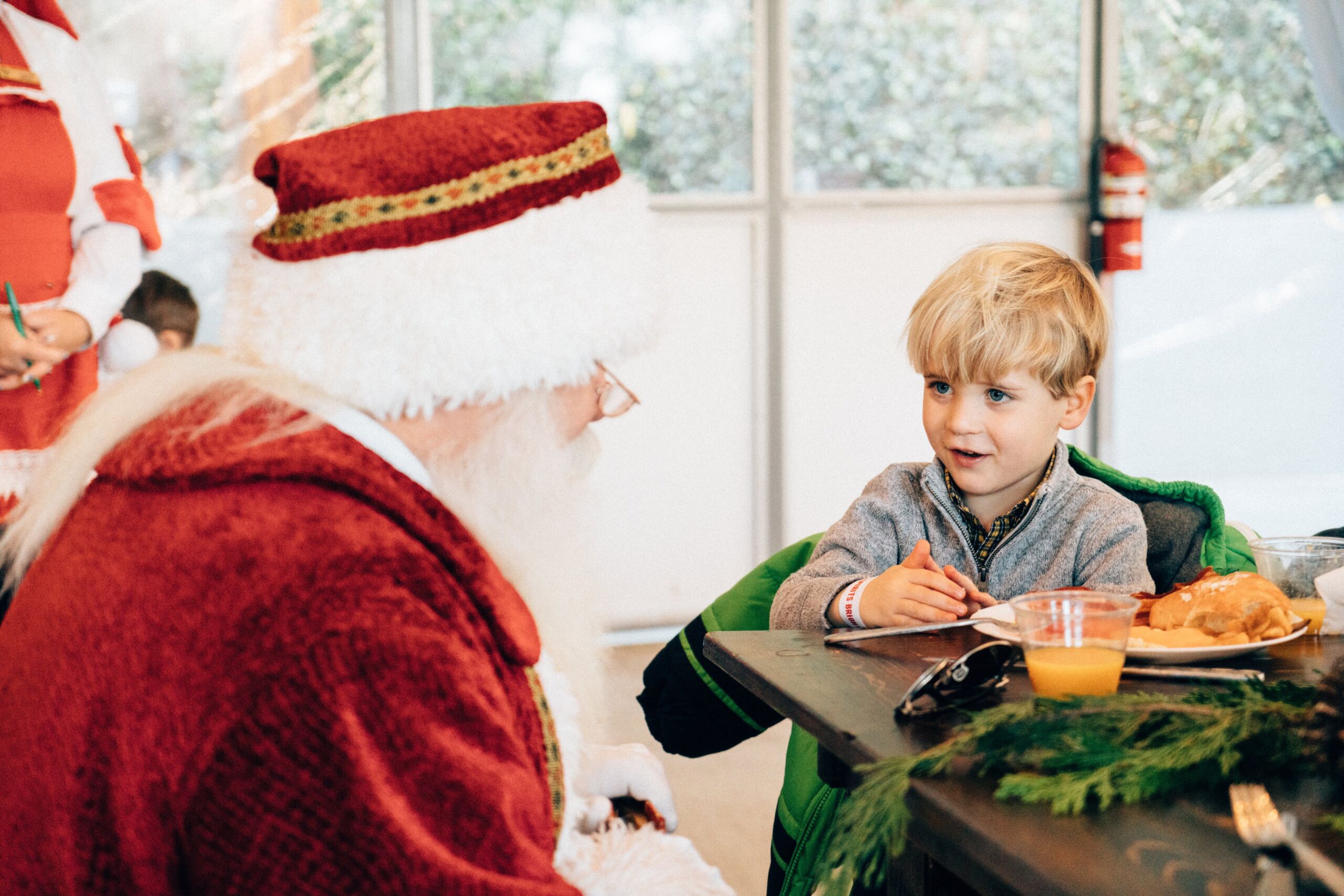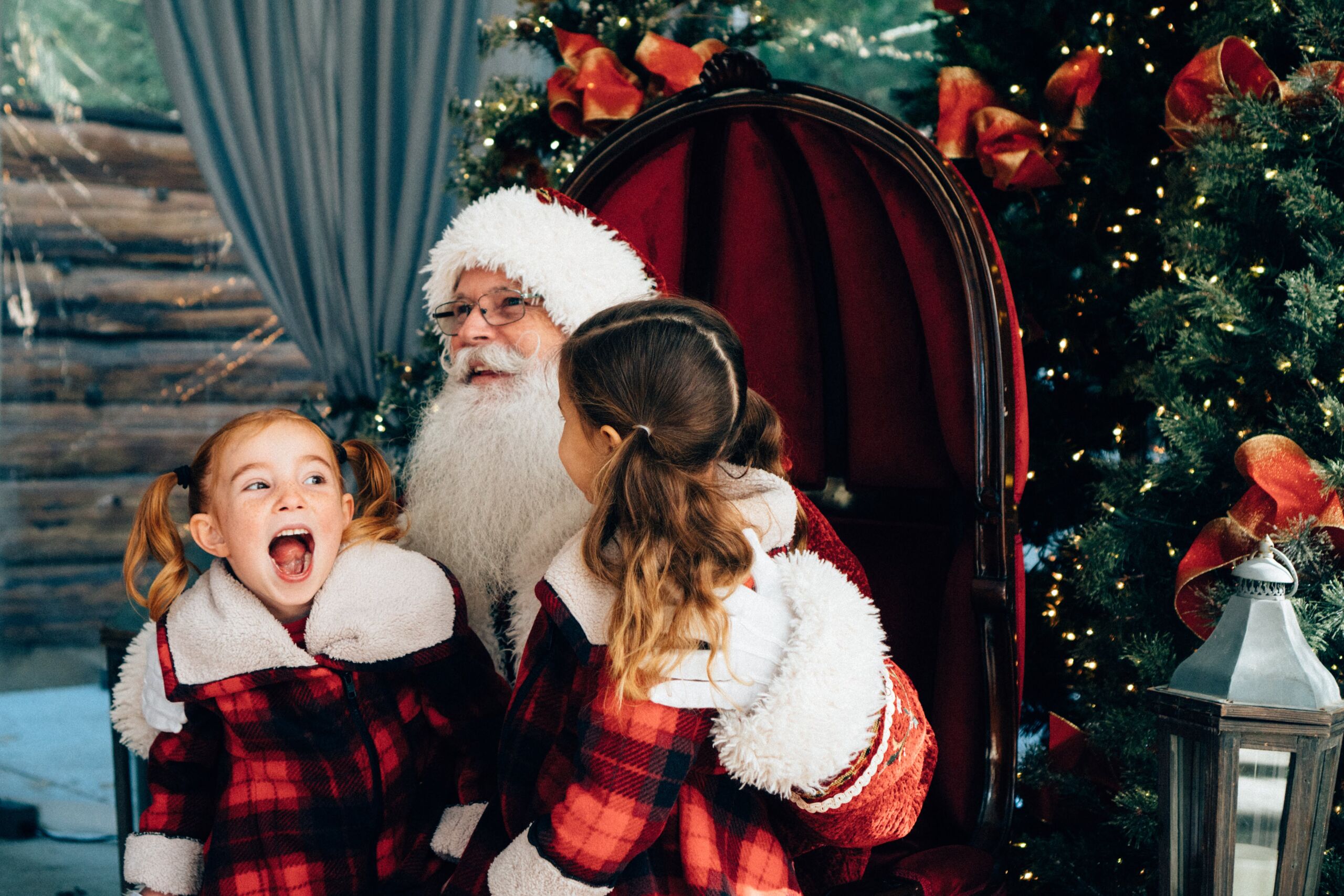 TEA WITH MRS. CLAUS
Join Mrs. Claus and her Elf friends for a fun-filled afternoon of stories and good eats every Saturday and Sunday starting November 26th-December 26th at 11:00 AM, 1:00 PM or 3:00 PM (with the exception of Christmas Day). Mrs. Claus has the most fabulous collection of teacups and teapots reserved for this special occasion! For $25* per person, you'll enjoy a variety of tea sandwiches, teas and special treats all prepared in your honor. Join her November 27th-28th, December 4th-5th, 11th-12th, 18th-19th, 24th, 26th and January 1st-2nd.
*All Guests who want to come in the tearoom do need a reservation and all children need to be accompanied by an adult. All Guests must also purchase a Day Pass (in addition to the tea) or be a SkyPark Passholder to join. Please make sure to be prompt or come early to ensure you make Santa's Good List!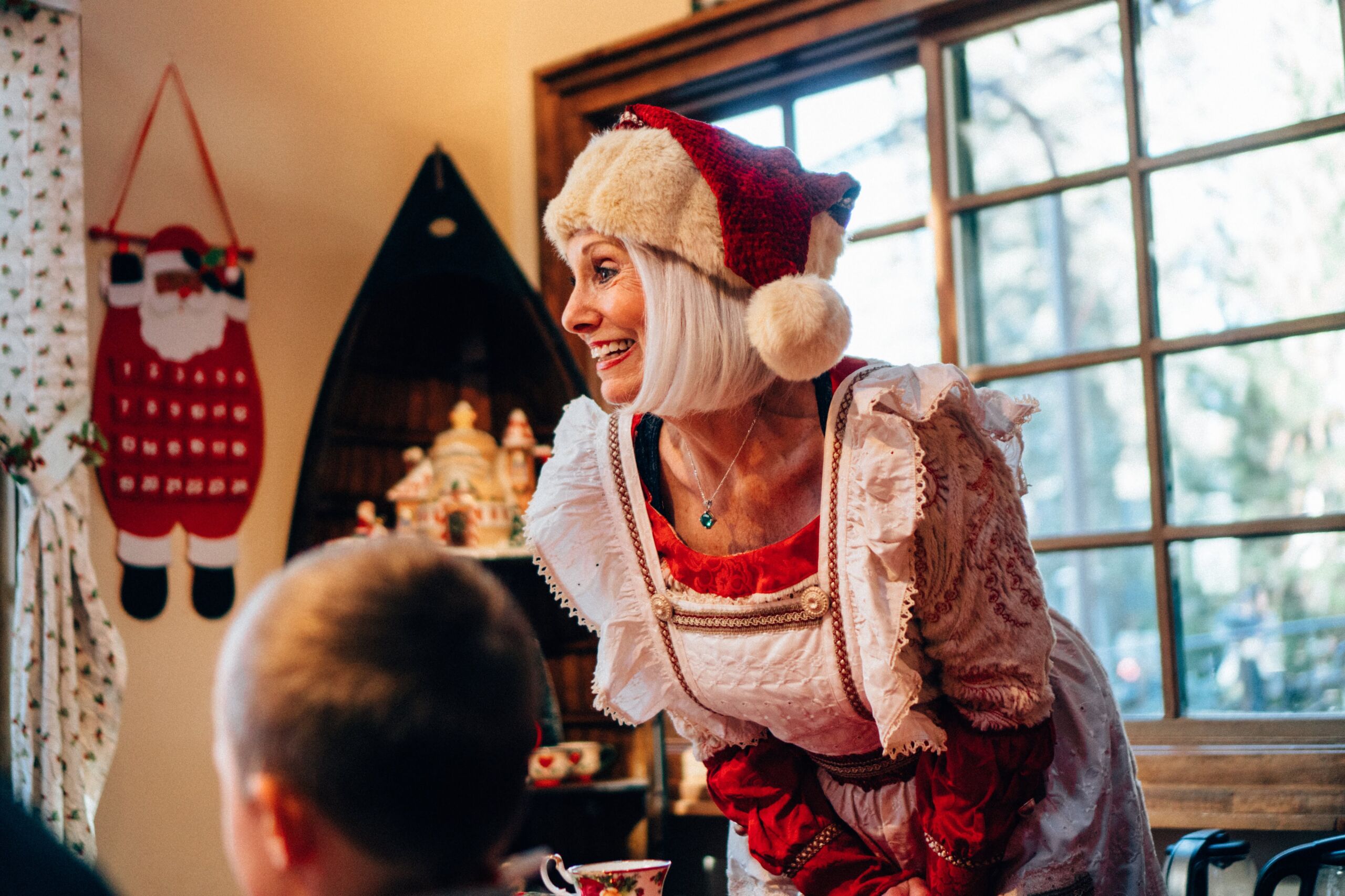 SPECIAL HOLIDAY ENTERTAINMENT*
Were you lucky enough to attend Pumpkins in the Pines and be wowed by Wacko the Magician? Well our good friend was just warming up because he's back to show you his own kind of holiday magic! Catch him daily at the Sky Pavilion and prepare to be amazed! You never know – he might be able to magically change your name from the Bad to Good List!
Another can't miss event is our Puppet Show. Everyone is familiar with Santa, but his Elves have quite the story, too! Come hear about their world in An Elf's Life For Me Puppet Show. And did you know that Princess Evi is Santa's niece (and daughter to King Celwyn, Santa's brother)? You'll also enjoy learning about the Stories of the Northwoods, featuring more of Santa's friends and family members.
We're also excited to welcome back our friends with Kids Imagine Nation! And if you're visiting on a Friday, Saturday or Sunday, you'll be one of the lucky Guests to catch the show. Disclaimer: This high-energy performance is sure to have you dancing and singing along (so don't go if you don't like to have fun)!
*Please check our Entertainment Schedule upon arrival for showtimes.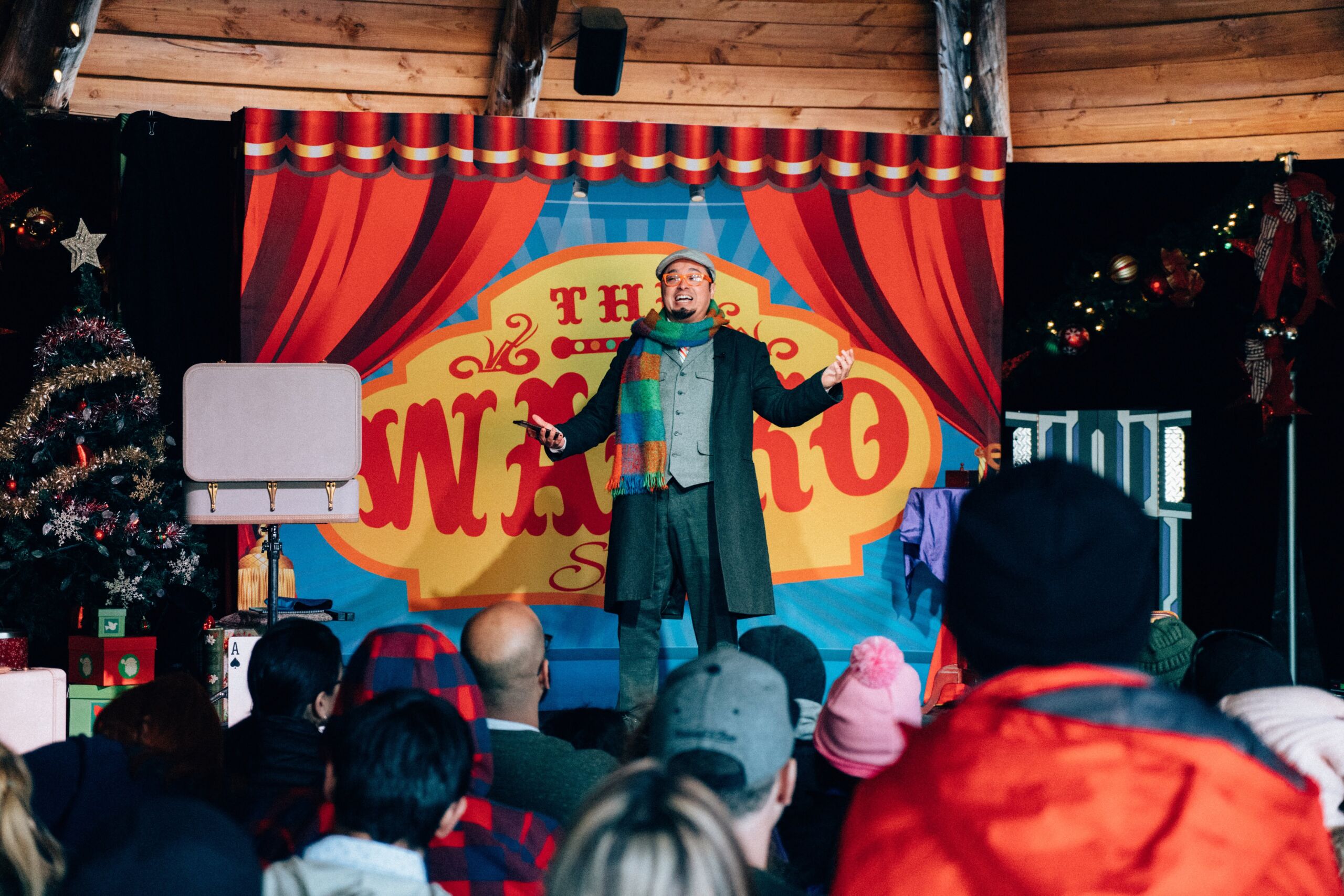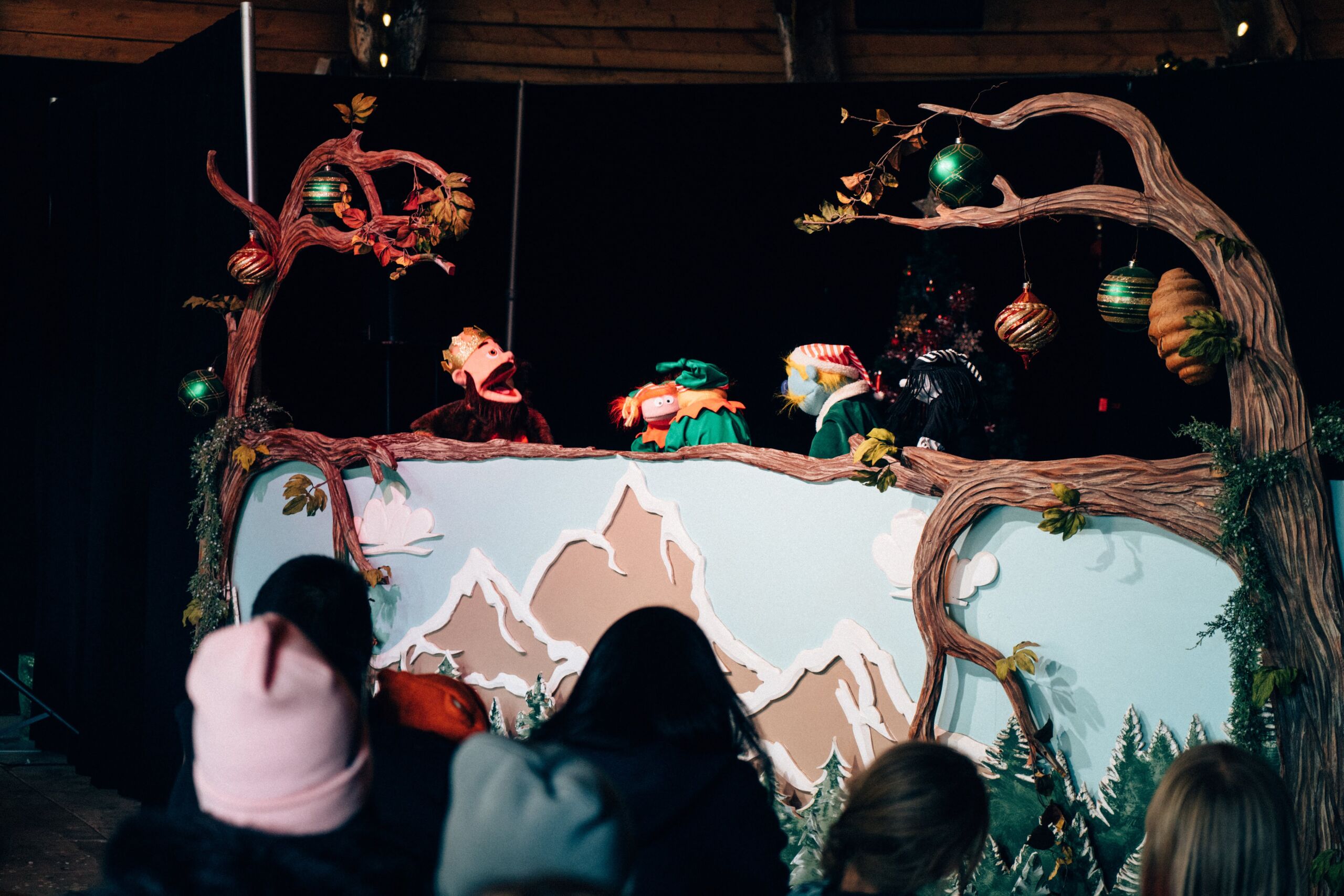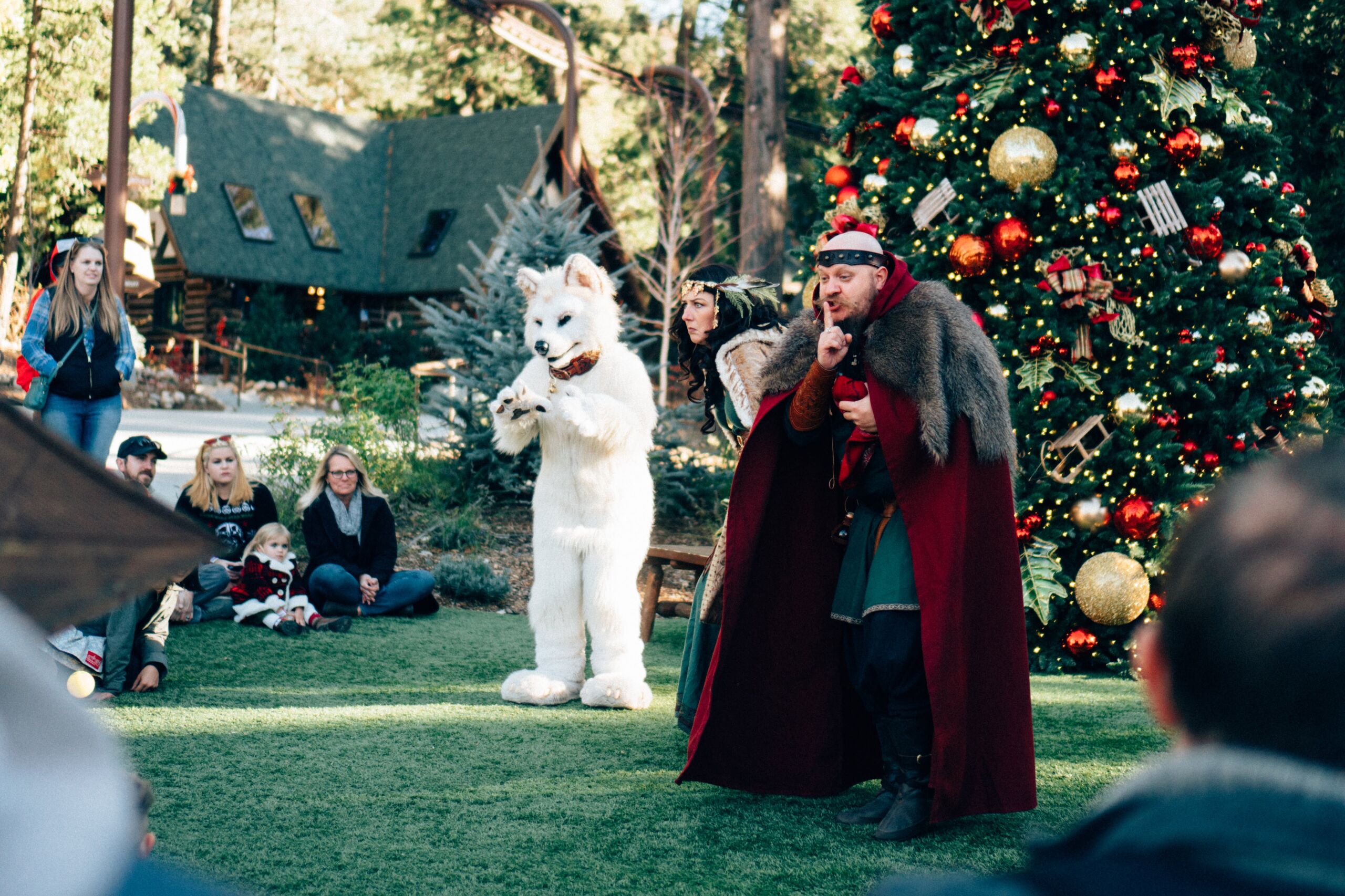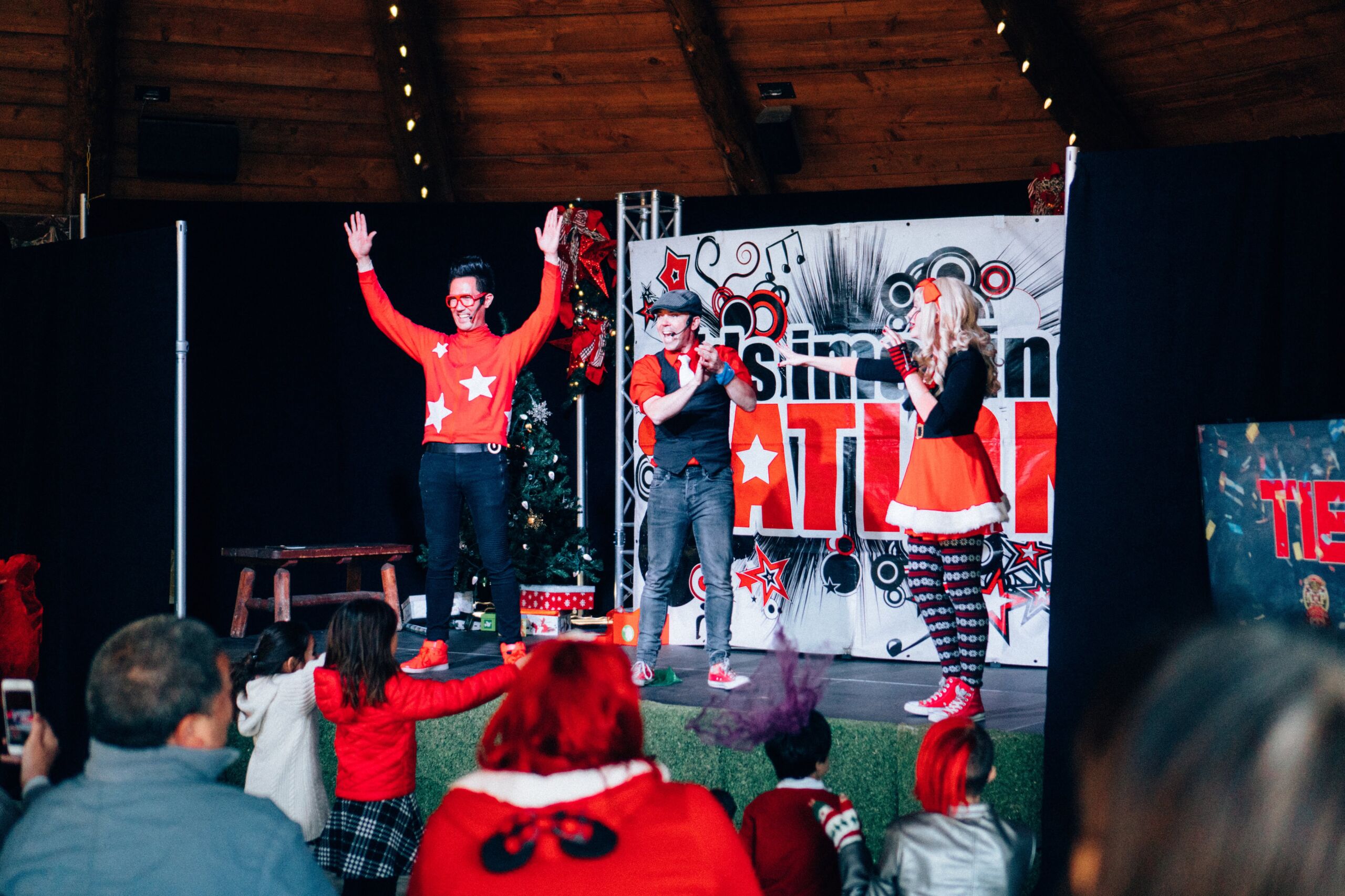 SANTA'S WORKSHOP & POST OFFICE
Have you ever wondered what Santa and his Elves do behind-the-scenes for everyone on his Good List? Catch a sneak peek of where the holiday magic begins and jingle all the way over to Santa's Workshop! Here, you'll see where he crafts his special presents for children to unwrap on Christmas morning. While you're there, you can even grab a toy to paint. Once it's dry, you'll have something special to take home direct from the Big Guy's workshop! Toys are available daily during park hours and range from $12 – $15 each.
Haven't sent him a letter yet? You're in luck! You can drop off a note to Santa in the North Pole Post Office box right next to his house to make sure he doesn't miss you.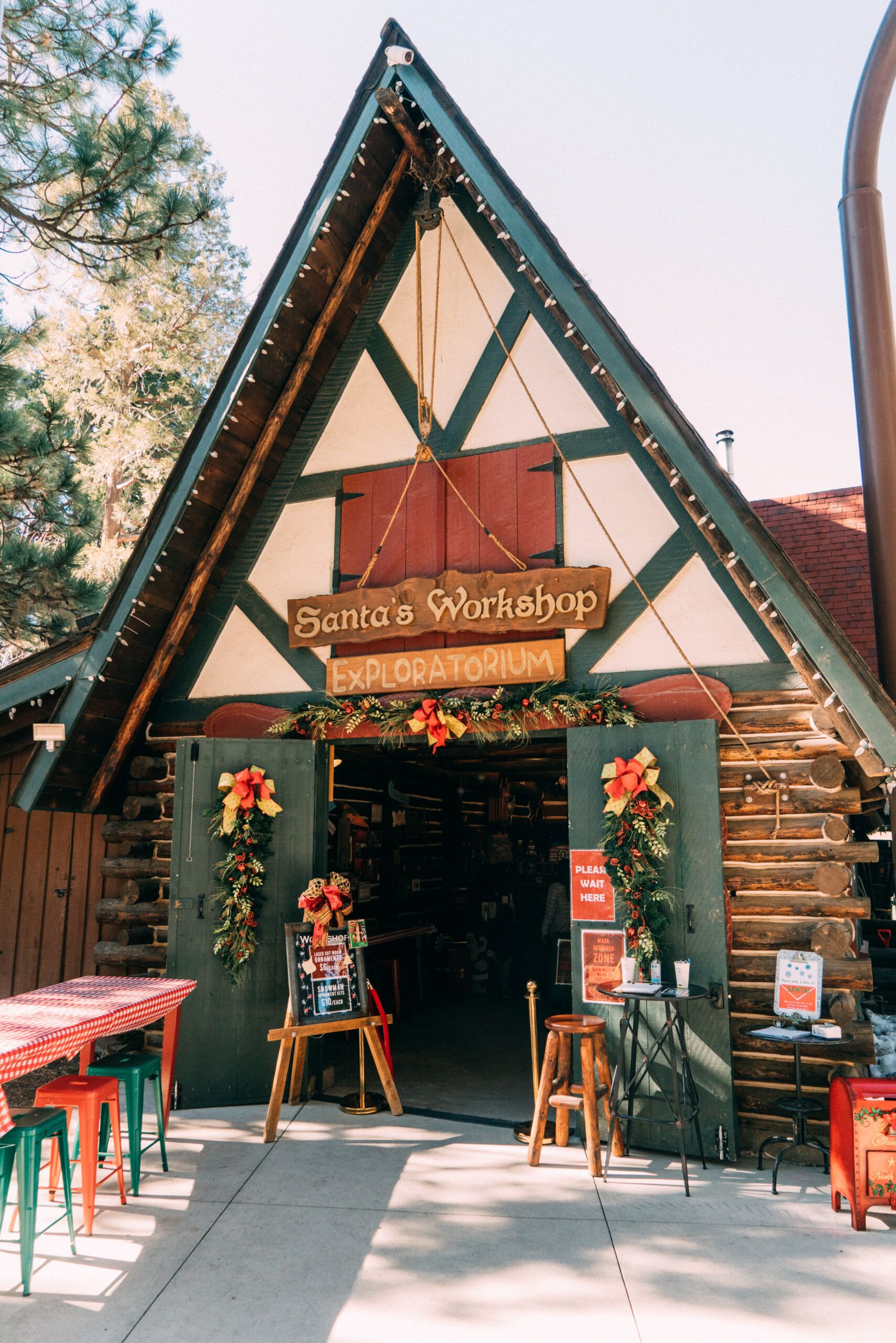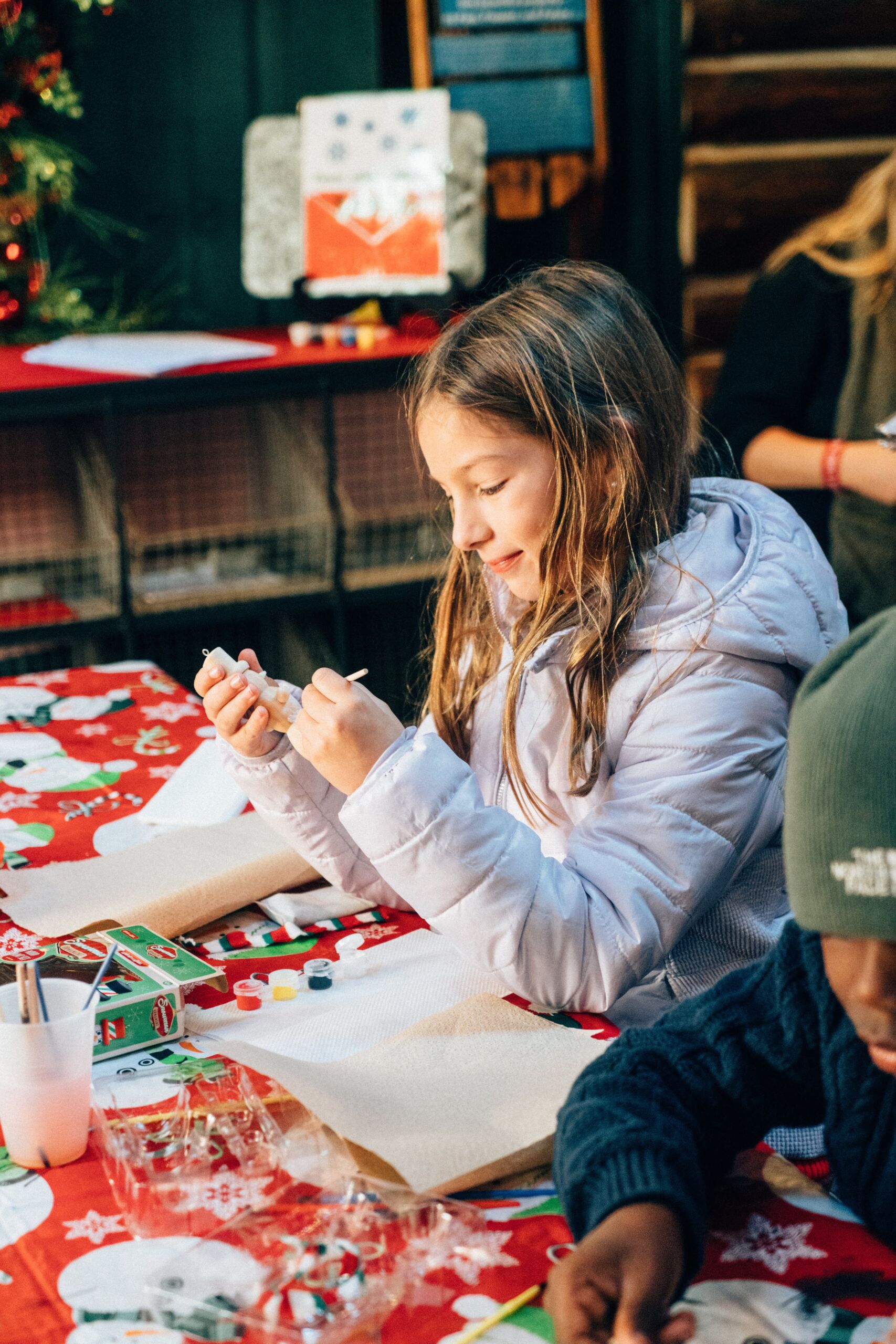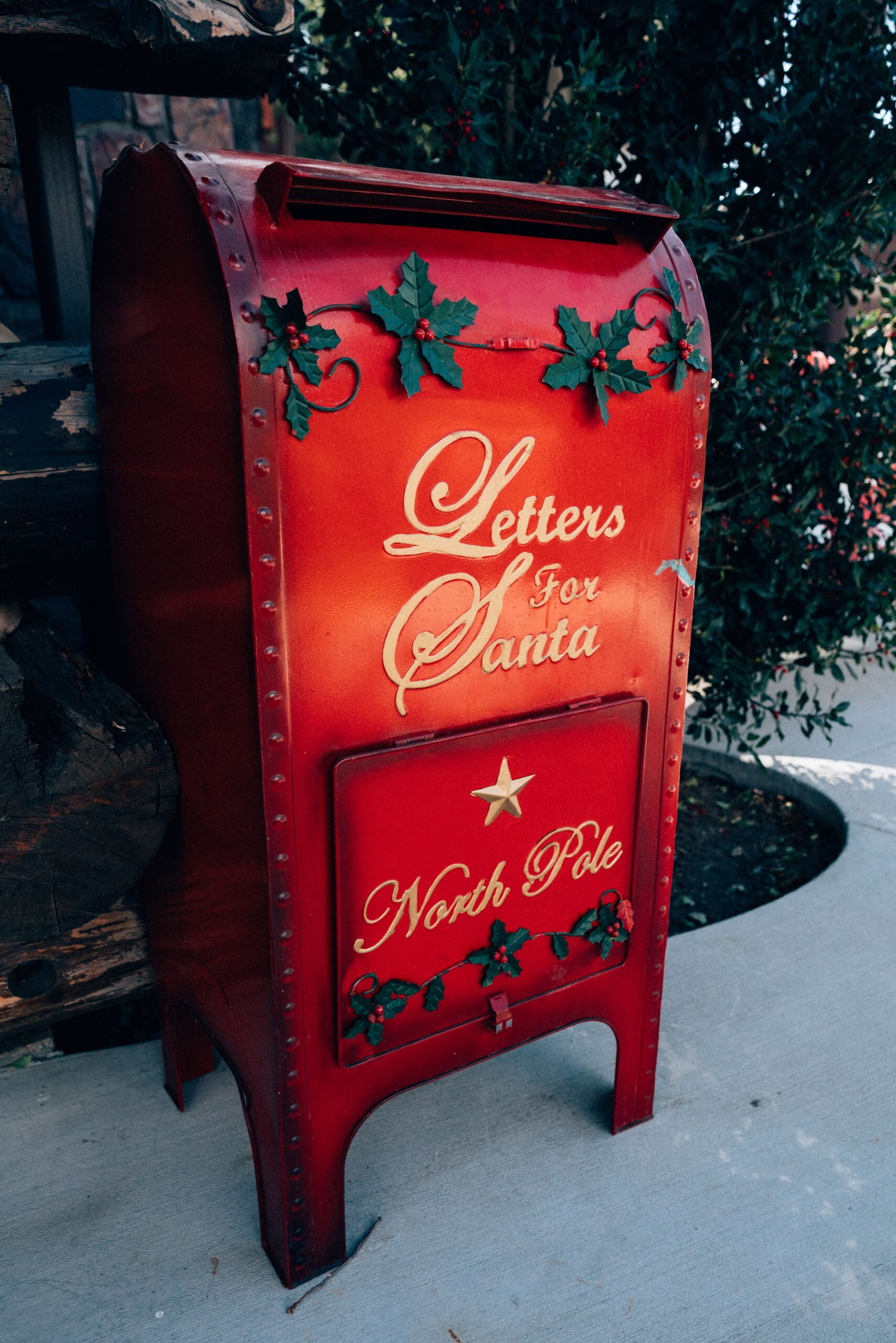 COOKIE DECORATING
National Cookie Day is on December 4th, but Santa celebrates cookies all year long! Have yourself a tasty little Christmas with a fun cookie decorating class with Santa's Elves in the Sky Trading Company. All Guests will receive their own cookies and single-use supplies to let their creativity (and taste buds) run wild. Come make your day a little sweeter with us Sundays – Thursdays from 10:00 AM – 6:00 PM and Fridays – Saturdays from 10:00 AM – 7:00 PM for $7 each.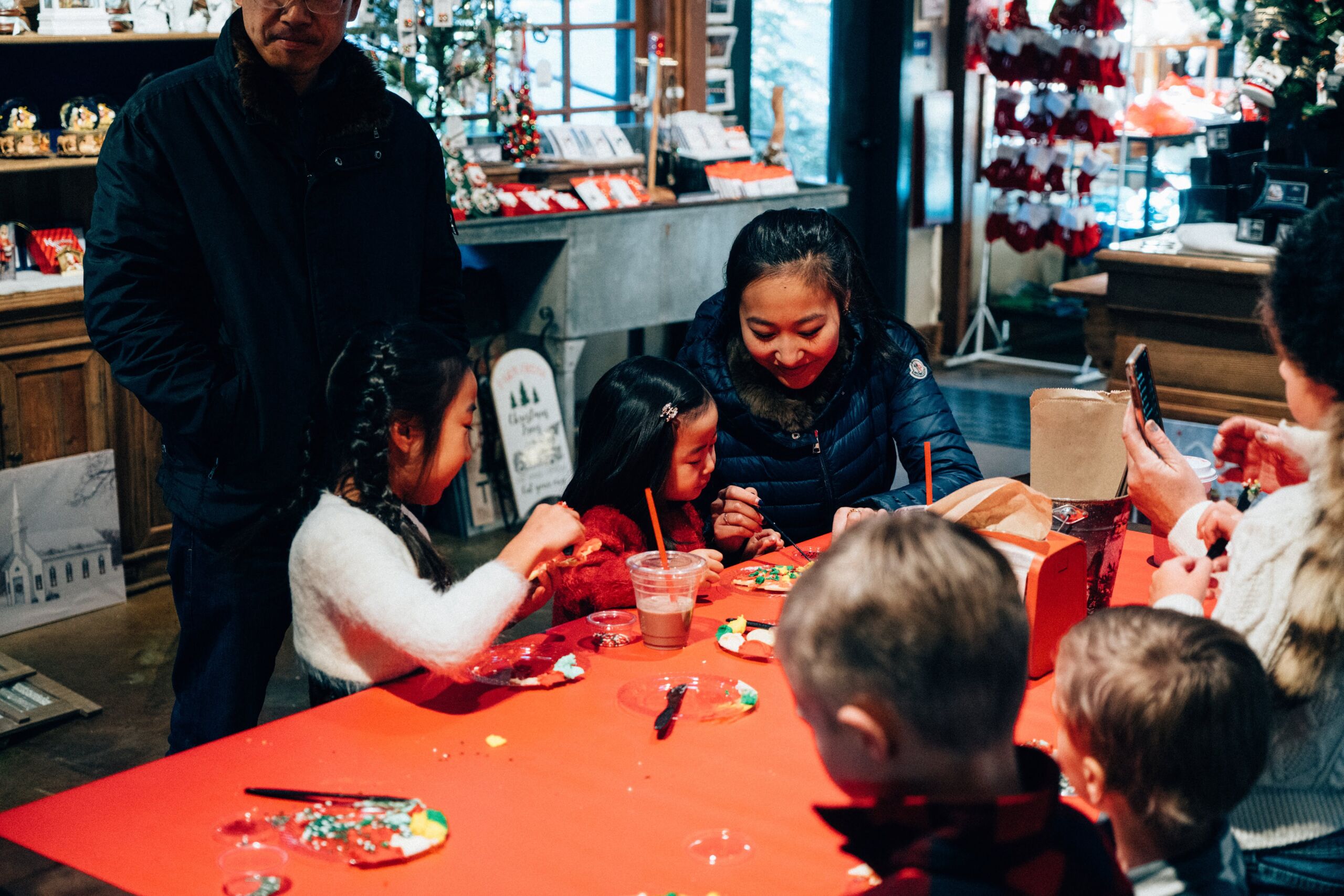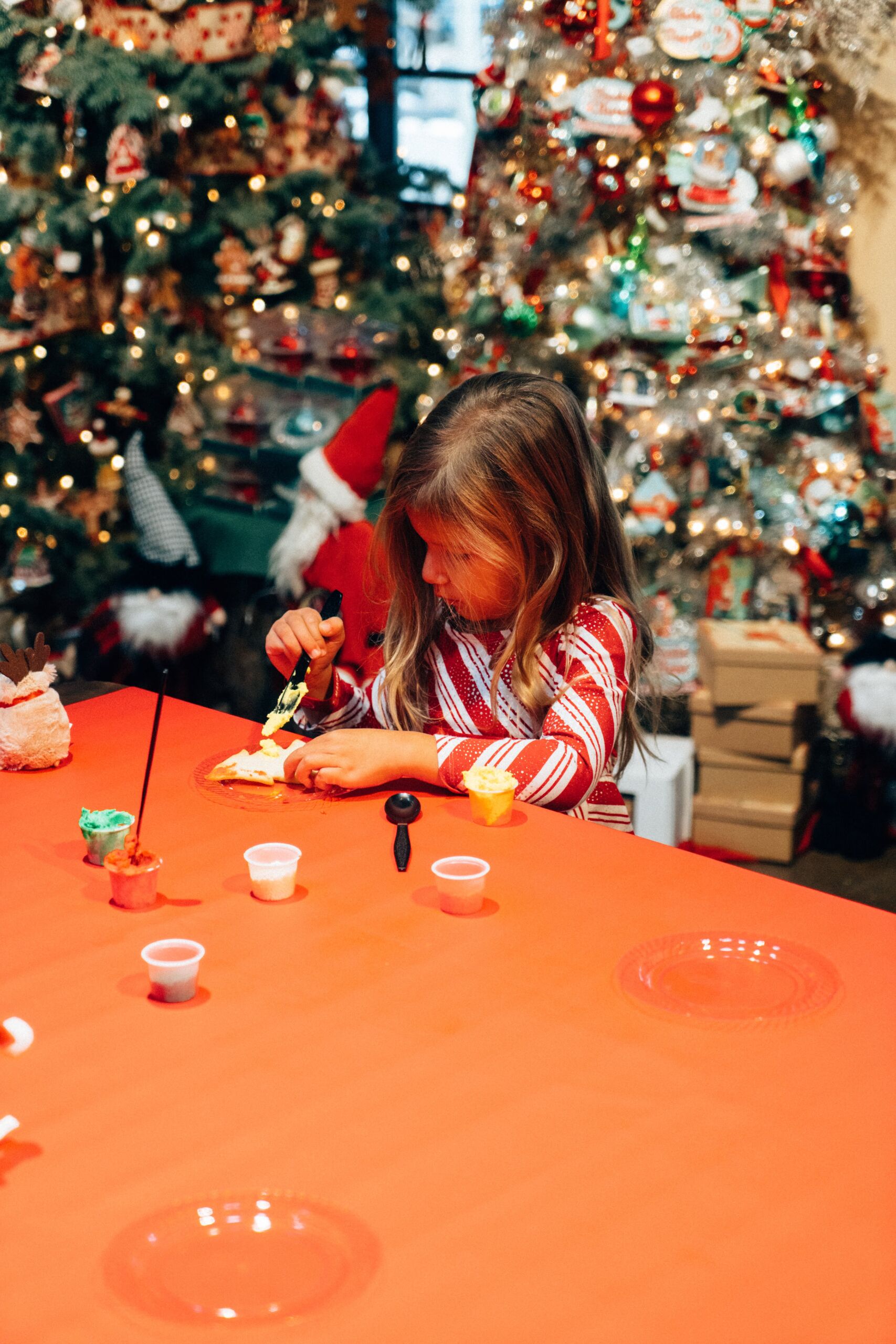 ICE SKATING AT SILVER BELLS ARENA
Tis the season for our Silver Bells Arena to transform into the mountain's exclusive ice skating rink! You might even catch Santa out there practicing his moves in between visits at his house and workshop. Guests are welcome to complimentary skate rentals (just remember to bring thick socks!) or you're welcome to bring your own. Our Adventure Elves are also happy to offer you some pro tips and assistance. Suitable for all ability levels, ages 2+.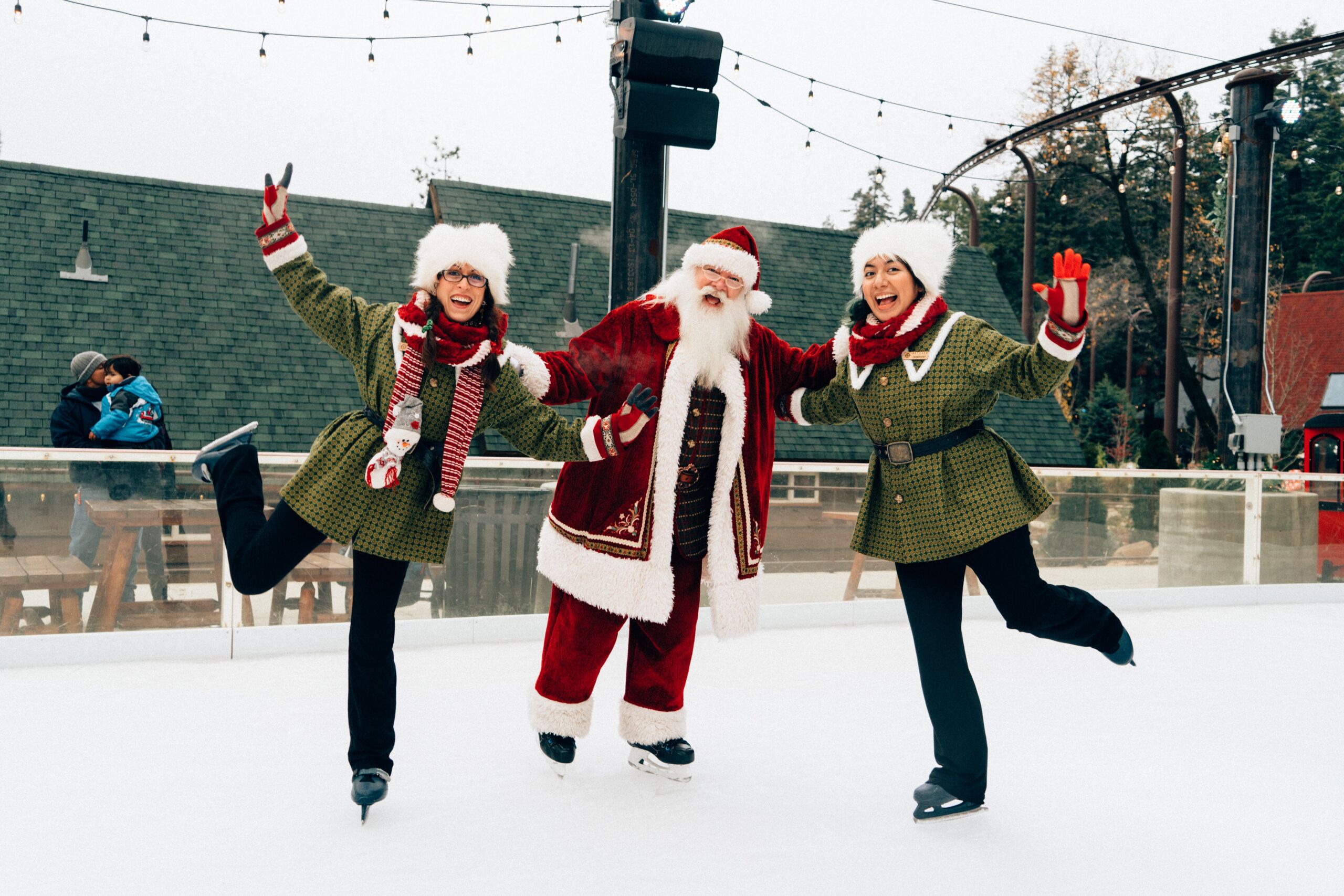 CHARACTER MEET & GREET + VILLAGE TREE LIGHTING PARADE
Santa's work couldn't be done without the help of his Elves and dear friends of the Northwoods! You'll catch them strolling the Village throughout the day and even have another opportunity to meet them at 4:00 PM throughout the Village before the Village Tree Lighting Parade every Wednesday-Sunday at 5:00 PM. Be sure to keep an eye out for your favorites: Arrow, Princess Evi, Princess Sugar Plum, Frosty, Snap and Crumbles and of course, Santa! Then join them all for an exciting ceremony as they light up the Village Tree.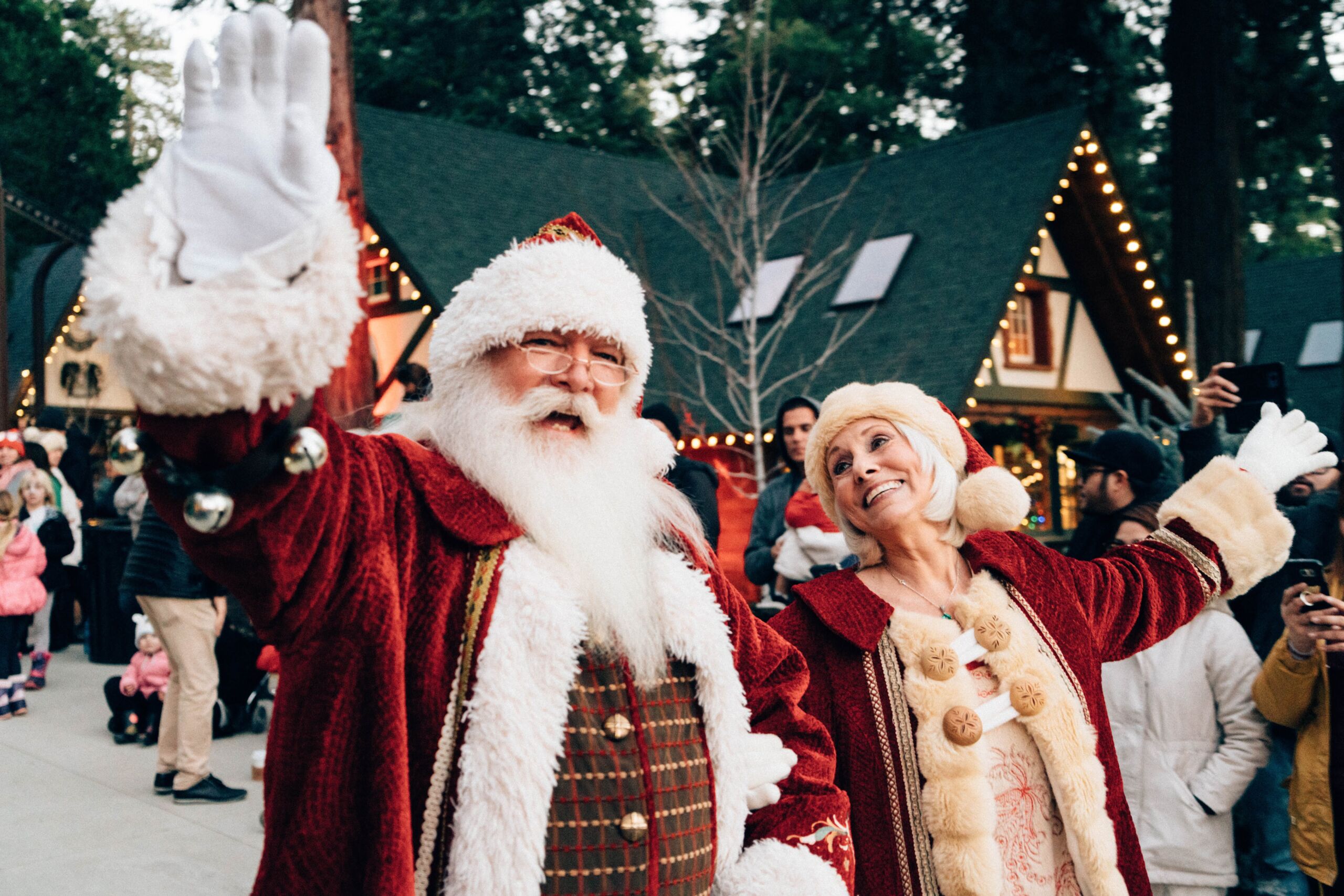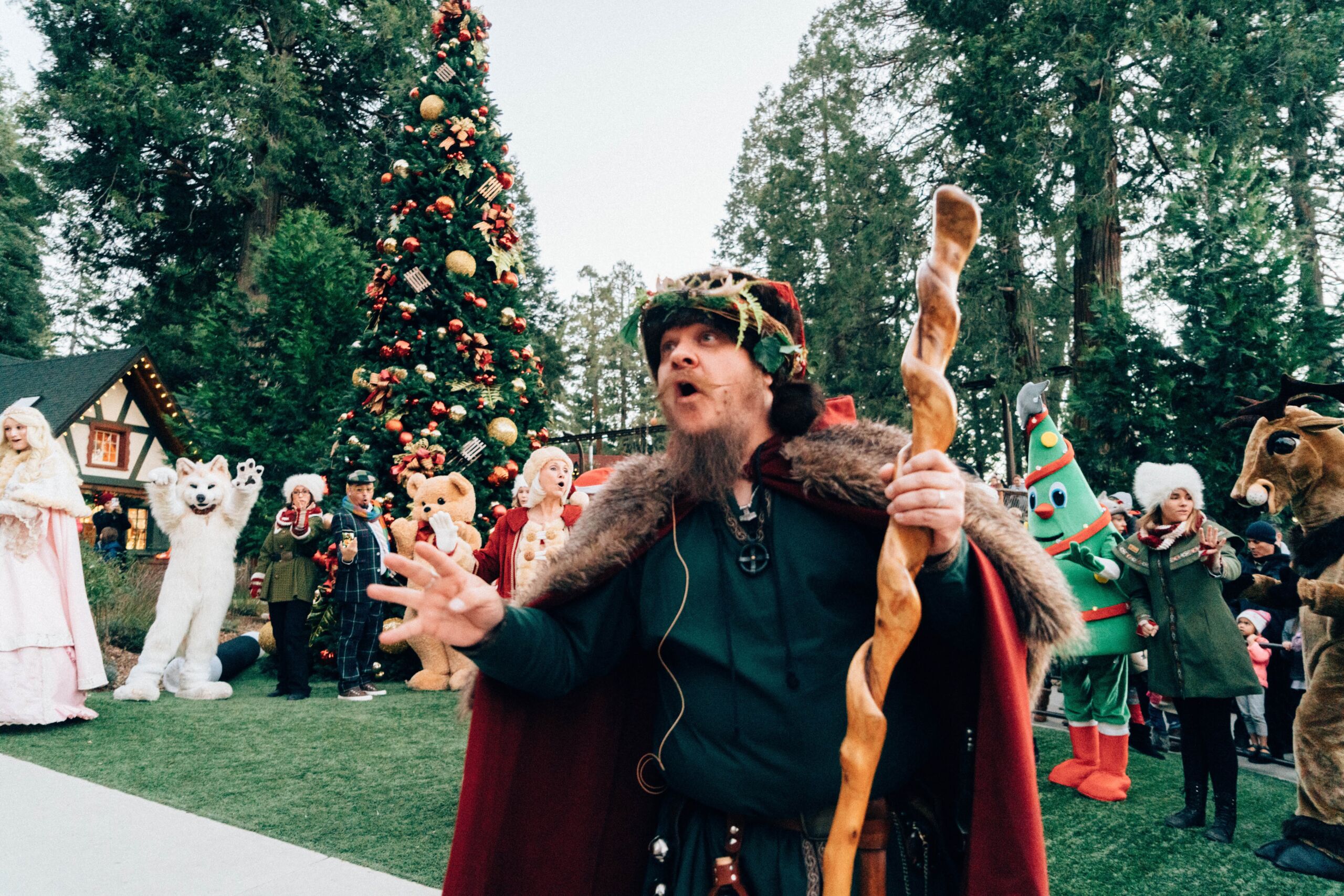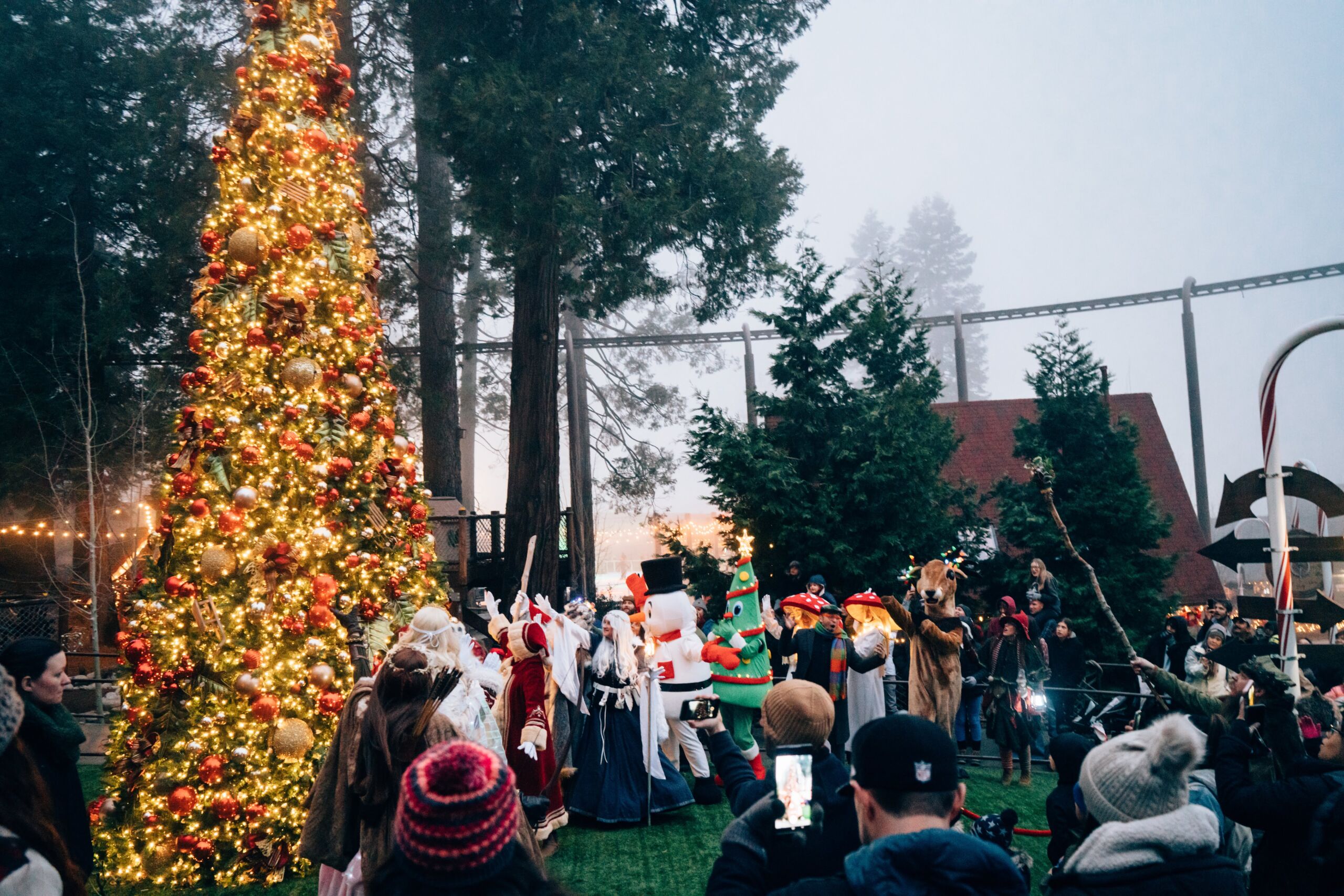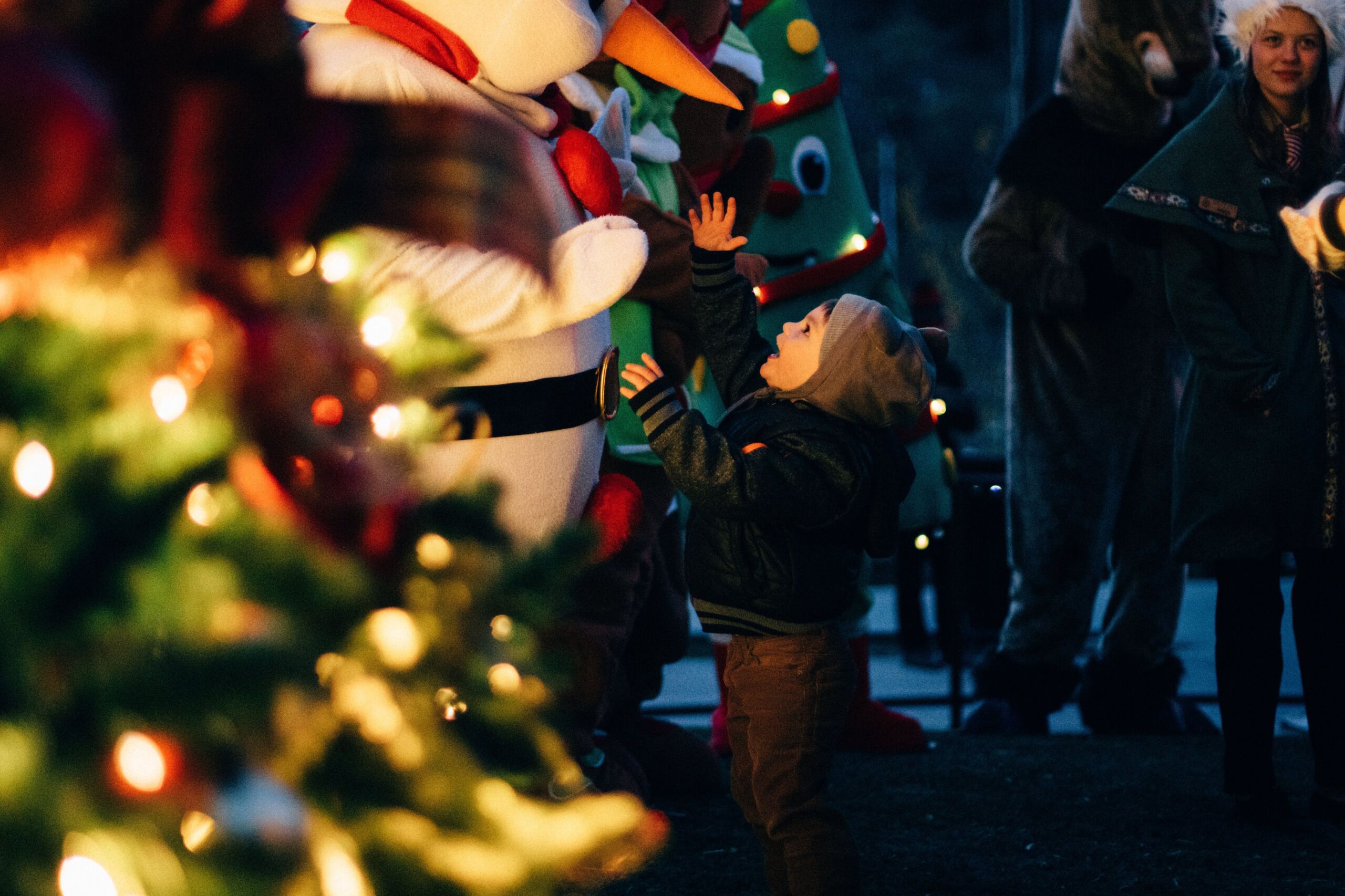 VILLAGE OF LIGHTS SPECTACULAR
You haven't experienced Christmas at SkyPark until you've seen the dazzling display of colors and music that illuminate Santa's Village! Make your spirits merry and bright at the Village of Lights Spectacular, Sundays – Thursdays at 5:45 PM and Fridays – Saturdays at 5:45 PM and 6:45 PM.
FANTASY FOREST OF LIGHTS
There's always been magic living in the Northwoods. But there's something about the Christmas spirit that brings it to life for all to see. Join us for a unique, immersive experience among the trees as you wander through the Fantasy Forest of Lights nightly from 5:00 PM to close.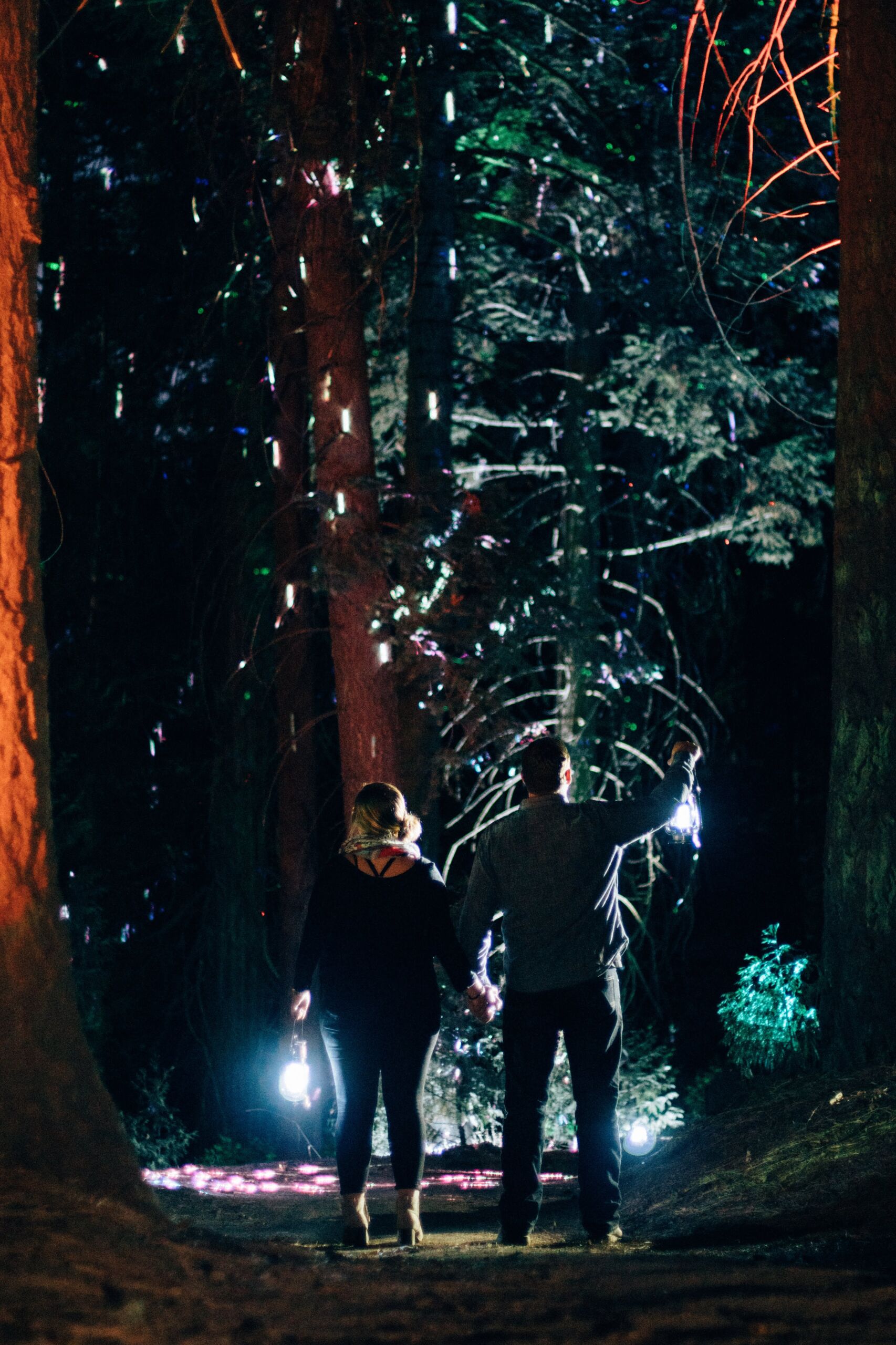 SEASONAL HOLIDAY FLAVORS
If you loved our special Fall flavors as much as we did, then get ready to eat, drink and be merry! Our seasonal holiday treats will keep you warm while keeping your stomach happy.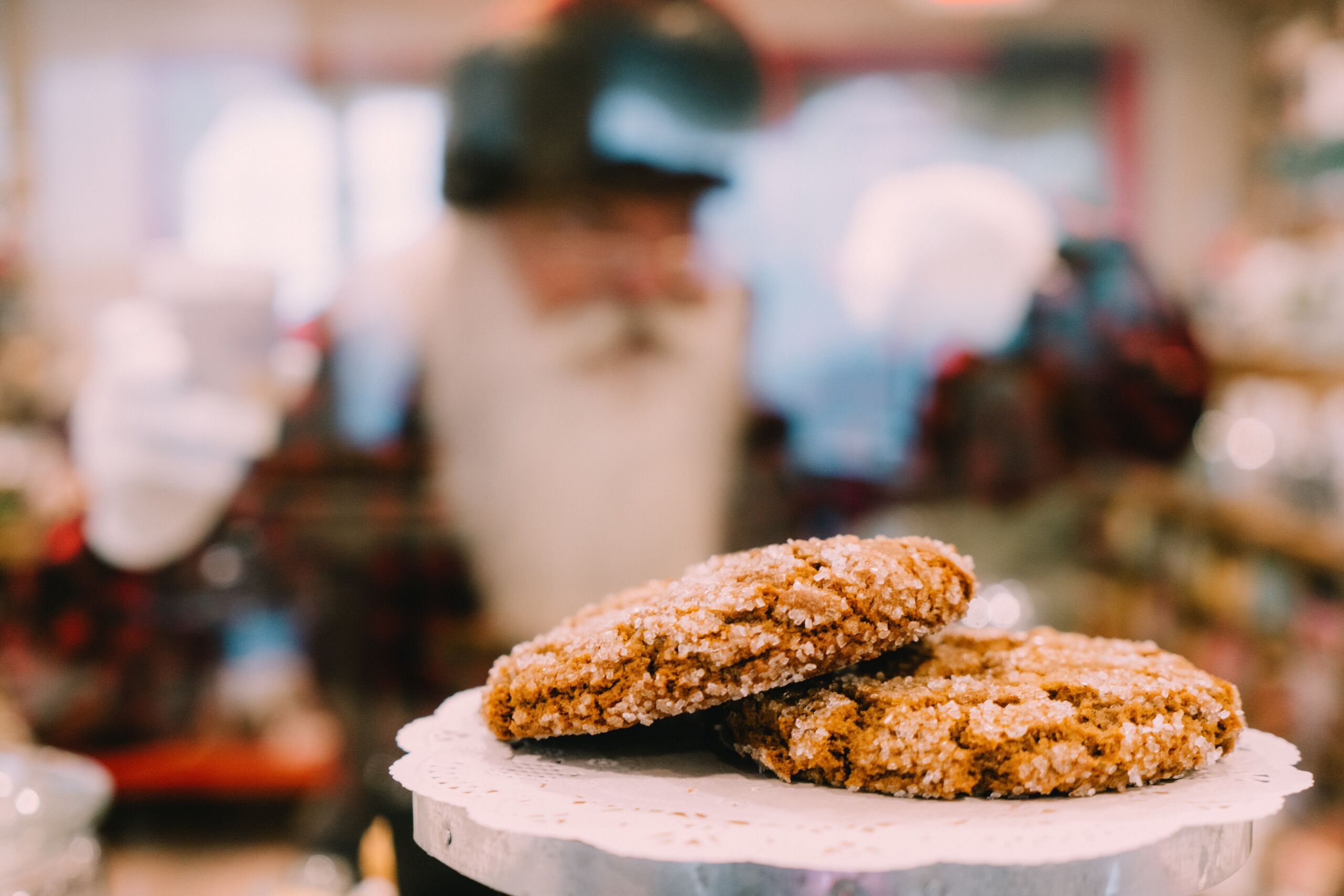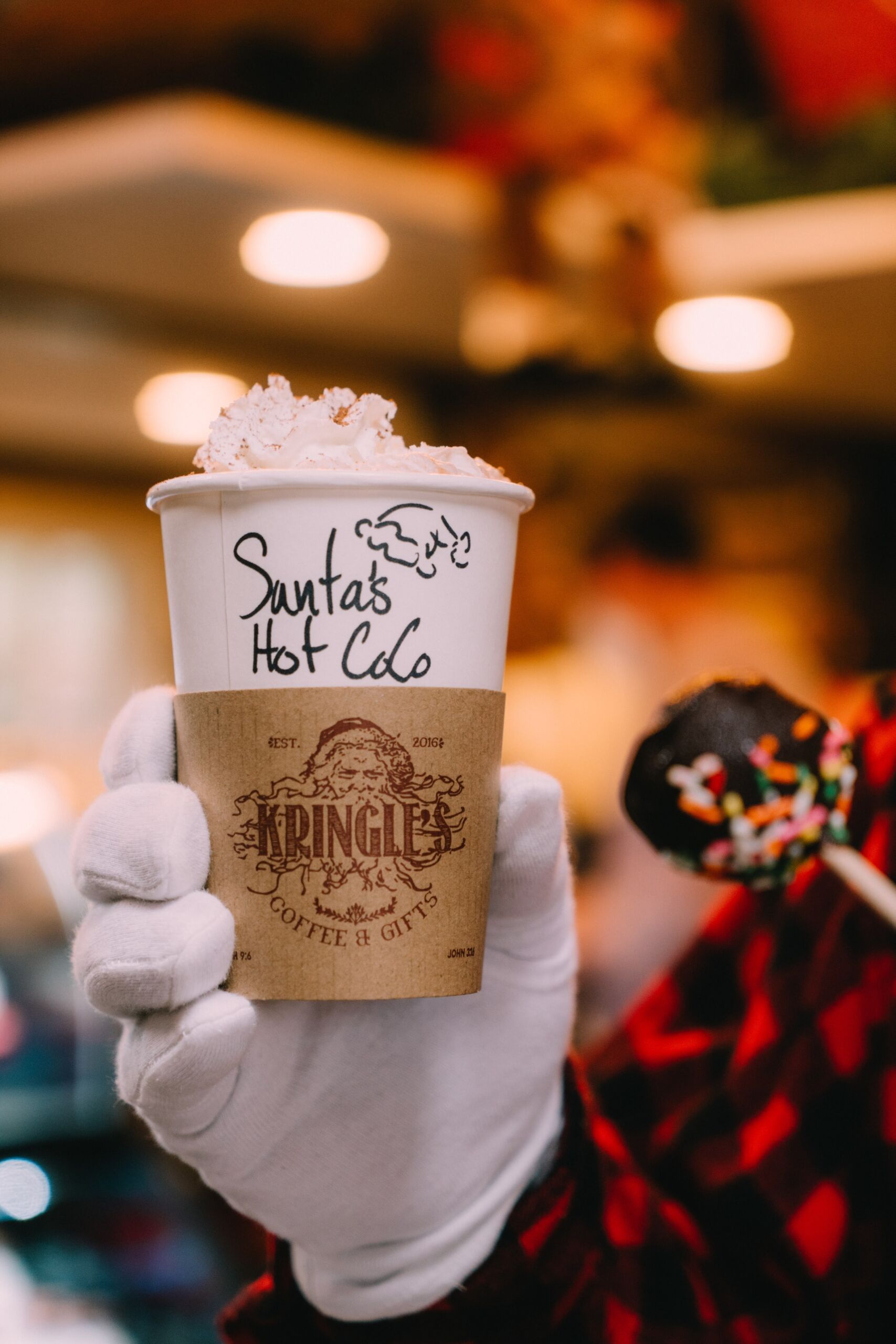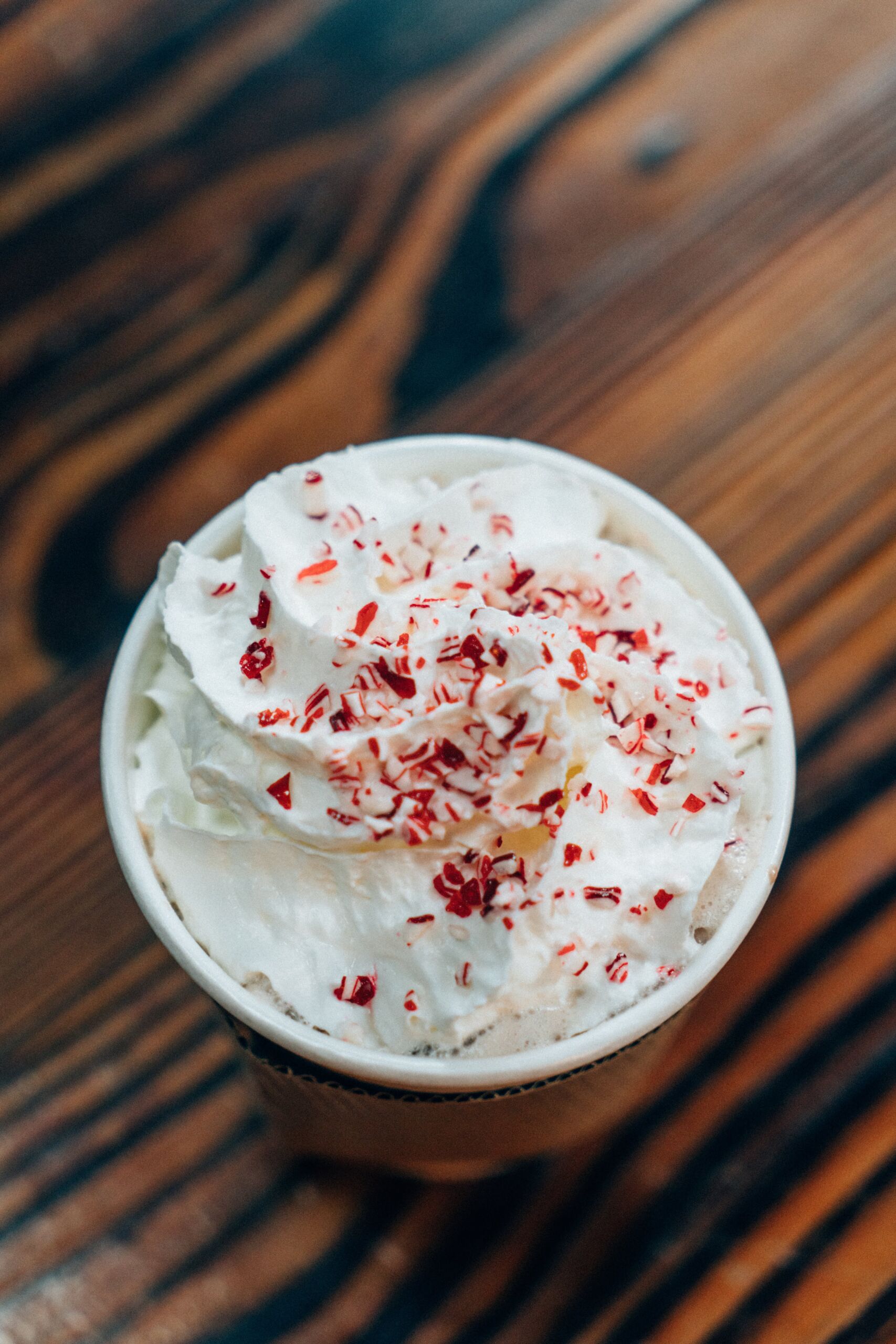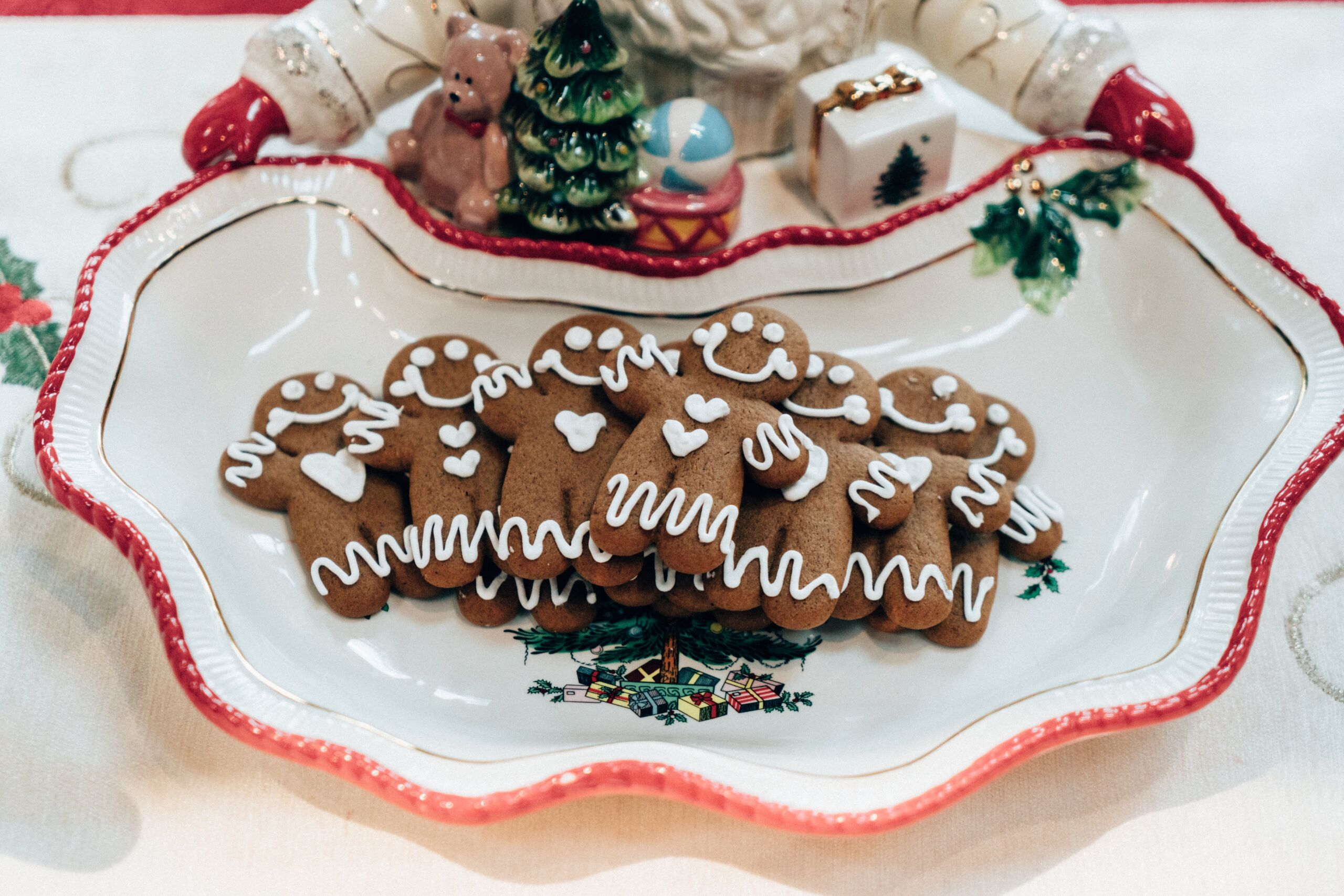 CHRISTMAS MARKET ON DECEMBER 10TH
Christmas Markets have long been a holiday tradition throughout Europe, dating as far back as the middle ages. And new to this year, we'll be bringing the market to the mountains! On Friday, December 10th, 2021, talented local artists will be featuring a variety of unique gifts and products just in time for the holidays. Be sure to mark your calendars, because this event is one day only!

SKYPARK ADVENTURE ACTIVITIES + BIKE PARK
Included with the price of admission are all of SkyPark's everyday activities, too! Enjoy our popular network of mountain biking trails, ride pedal cars, try out Santa's Toy Test Track, or hop aboard the Northwoods Express Train. You can even get a bird's eye view of the park on Floki's Frozen Falls Climbing Tower or Adventure Zipline. Challenge yourself to the Royal Games (archery, ax throwing or sharpshooting) or take your spin on ice skating. With plenty of activities, there's more than enough fun to go around keep you warm all day long! Due to the nature of our mountain location, all activities are weather-permitting.
ABOUT SKYPARK AT SANTA'S VILLAGE
SkyPark at Santa's Village is an Outdoor Adventure Park with year-round mountain biking, hiking, fly fishing and open air activities in the Skyforest section of Lake Arrowhead, California. The Park resides on 230 expansive acres of natural forest with meadowlands, ponds and an apple orchard. The Village is the core of SkyPark which includes historic log cabin restaurants and shops, seasonal entertainment, and open-air activities. SkyPark's nearly 10 miles of year-round mountain bike trails, hiking trails, fly fishing, archery, seasonal ice skating or roller skating rink, rock climbing and more are available to the public for the price of admission.
SkyPark's conservation program includes the Henck Meadowlands Conservation Trail, Conservation Hikes, and Outdoor Educational Programs for school-age children. Each season, we offer a different themed overlay. During November and December, we transform the entire Park into Santa's Village – The ultimate Christmas experience! And for the adventurous Guests, come camp with us at SkyPark Camp + RV Resort or "glamp" at the NEW SkyStream Resort to make your trip complete!